Master Decision-Making Practices of Fortune 500 Leaders
This free online leadership course will help you master the decision-making practices of Fortune 500 global leaders.
Publisher:

Gleb Tsipursky
Your ability to make suitable and sound decisions will determine whether you reach your business and career goals in this increasingly disrupted post-COVID world. This leadership course will help you acquire the decision-making practices used by Fortune 500 leaders to seize a competitive advantage in the ever-changing workplace. Be taught by a world-renowned decision-making expert who has taught hundreds of leaders and will now train you!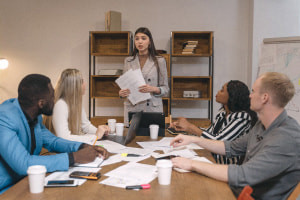 Duration

4-5 Hours

Accreditation

CPD
Description
Are you in a leadership role in a firm but struggle when it comes to decision-making? Do you own a business yourself and are looking to improve your chances of success by making rational and timely decisions? If the answer to these questions is 'yes', then you have come to the right place. In a rapidly changing world, making the right decisions at the right time is crucial for success, either as an employee or an employer. Dr Gleb Tsipursky, an authority in this field, guides you in making the most effective decisions to maximise success and avoid major pitfalls. He has worked with the best leaders in the largest firms around the world. His experience in guiding Fortune 500 leaders gives him the perfect portfolio to become your mentor for your future endeavours. The course kicks off by introducing you to the 'wise decision-makers' manifesto'. This manifesto guides you on the importance of using your head in decision-making rather than the 'go with your gut' mantra. Most great leaders think about their decisions thoroughly before finally implementing them. Dr Gleb provides reasons for how cognitive biases play a critical role in our judgments. He also guides you on avoiding them to get the best out of your long- and short-term decisions.
Have you struggled in the past to make quick decisions? Or made bad career moves that have made a significant impact on your life? This course will help change those decision-making patterns for a better future. Dr Gleb has developed several techniques that you can apply for both quick and long-term decisions in your career. He introduces these techniques in the form of questions or steps that can be applied while making decisions individually or with teams. These techniques ensure that they address the major cognitive biases and consider all possible scenarios before you give the go-ahead. When multiple decision-making options present themselves, he will prepare you with all the right tools. Numerous leaders worldwide have used these techniques as members of Dr Glebs's client portfolio, which has been tremendously beneficial in making the right choices for their firms.
The course will present other strategies for ensuring that you are fully protected from failure and provide you with a safe future. Avoiding major decision-making disasters and future-proofing your firm is key to maximising your success. Dr Gleb will discuss his 8-step model for preventing failure and the 10-step process for protecting your future. Do you find old habits constantly interfering with your decision-making? These intuitive habits and patterns can have a huge impact on your life. With his expertise in cognitive neuroscience, Dr Gleb gives a 12-step model on overcoming these cognitive habits and making effective decisions. It's common to have colleagues and team members living in denial. He provides a 5-step method for dealing with such colleagues. In the post-covid environment, making the right decisions is crucial. Many businesses and individuals have suffered because they simply were not equipped when it came time to make crucial decisions. This course will help you make the most effective decisions promptly. So don't waste any more time. Acquire this battle-tested advice from a world-renowned expert and achieve your future goals and aspirations!
Start Course Now