Maintenance and Repair of Marine Electrical Equipment
This free online course will teach you maintenance and repairs of electrical equipment in the marine environment.
Publisher:

ADU
Maintenance and Repair of Marine Electrical Equipment is a course that delves into the general maintenance and repair procedures of electrical components used in the marine environment. We discuss the functions and the performance tests of electrical equipment in addition to machinery alignments. Register for this course today and enhance your knowledge of the maintenance and repair of marine electrical equipment.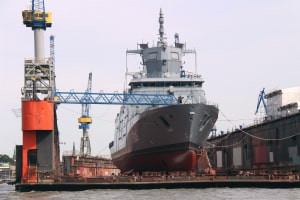 Duration

4-5 Hours

Accreditation

CPD
Description
The equipment used in the control systems must be maintained and tested regularly. It is necessary to perform functional and performance tests for monitoring systems, automatic control devices, and protective devices. This course delves into these systems and illustrates how power, lighting, and communication details for engineering projects use technical and electrical drawing. The electrical drawing's lines, symbols, dimensions, and notations convey the engineering design to the electrical system workers installing the equipment. Electrical installations are continuously subjected to structural and climatic changes, which cause wear and tear. Investigate these electrically induced stresses causing volumetric changes that contribute to the wear and tear of electrical equipment. Analyze common faults in electrical installations on ships from short circuits and earth faults. Accurate alignment is vital to the working life of rotating equipment. Bearings, mechanical seals, packing, and couplings are all directly affected by the alignment of shaft center lines. The goal of the alignment process is to create a straight line through the coupling.
This course offers an understanding of the mechanisms of electric circuits relevant to marine communication systems. You will explore the methodology and classification of the general maintenance of electrical equipment. We introduce you to fault detection and the various troubleshooting techniques of electrical equipment. We also discuss testing, calibration, and maintenance of the control system and offer an extensive guide to the benefits and facilities of switchboards. You will learn to discuss safety considerations, inspection, tests for switchboard maintenance, detection, location, and prevention of electric malfunctions. Research different types of frequency meters and study the functions of the electrical monitoring systems of the marine environment. Then, you will master the functions and performance tests of the protective devices.
Lastly, you will learn to interpret the ANSI numbers, wiring diagrams, and other simple electrical diagrams. We outline how to maintain generators, motors, and circuit breakers. Examine the insulation resistance measurement, operation tests, and other tests for the circuit breaker. Study the machinery alignment of electrical equipment and air gaps between the machine parts. Then, consider the overhauling of bearings and the active and passive safety methods in marine electrical systems. Lastly, you will learn about the safe isolation of all electrical plants and equipment required before work. This course will be of significant interest to students, researchers, marine engineers, environmentalists, and anyone interested in the electrical arrangements of the marine environment. Don't delay and enrol today!
Start Course Now