Beginner Excel 2013 Power Business Intelligence - Revised
Learn about the Power Business Intelligence (BI) tools you can add to Excel 2013. No sign-up or subscription fees!
Publisher:

Channel 9
Business intelligence is a technological way of analysing data and clearly presenting that information, to help make informed business decisions. Microsoft Excel 2013 has many tools and capabilities that enable you to do this. Complete this free online course to learn how you can use Excel 2013 with Microsoft's Power BI tools to clearly display business-related data through queries, data models, Power views and Power maps.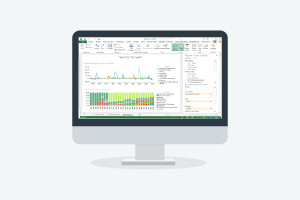 Duration

3-4 Hours

Accreditation

CPD
Description
In this online course about Excel 2013 and Power BI fundamentals, you will be taught about the Power BI tools you can add to Excel, using Power Query to import data from the Internet and add that data to your Excel worksheet. You will also see how to display your data with Power Views and Power Maps.
The course starts with Power BI tools and how to set them up in Microsoft Excel, after which you will learn about creating a Power Query to get data from a web page, modifying your query and adding the data from the query to your worksheet. You will learn about the data model, how to prepare it for creating a Power View, and adding a URL image to your data table/s.
The next topic will teach you about creating Power Views, adding data from your data model to your Power View. You will learn about the different visualisations you can use to display your data. Master interacting with reports in Power View to get them to display different data, and tilling card reports so it won't affect your other reports in the same Power View, along with the process of adding a simple map.
Finally, you will be taught about creating Power Maps and what data you would have to modify in your data model to get them to work. You will learn about how Power Maps use Bing maps and need geographical information in your data model to work properly. Study creating new scenes and displaying your data on a Power Map, as well as setting the transition between your scenes and creating a video out.
This course would be of great interest to those who wish to further their Microsoft Excel knowledge and learn about displaying their Excel worksheet data for presentations. As prerequisites to getting the most out of this course, you should have basic skills in using Microsoft Excel and an understanding of data relationships.
Start Course Now