Microsoft Power BI for Beginners
Learn the techniques to transform business data into rich visuals with this free online Microsoft Power BI course.
Publisher:

Pavan Lalwani
Power BI is a powerful intelligence tool that can help you to complete numerous tasks in fewer steps. This allows you to concentrate on other essential business duties. In this course, you will learn how to use different elements that best help to represent, scale and layout your business data. Methods will be taught on how to format each section to fit your needs. Transform your data effortlessly into rich visuals and keep it up to date.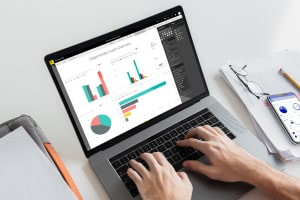 Duration

10-15 Hours

Accreditation

CPD
Description
After hours of designing and building multiple charts, graphs and visuals, you take a step back to get a better perspective. You find that it's not engaging, and it's a little hard to understand. You start to feel stressed out because your presentation is due in a few days. Many people have been in this type of situation, not once or twice, but numerous times. Perhaps, you have wondered if there is a tool out there powerful enough to help with data analysis, visualisation and collaboration between team members. The good news is, there is such a tool! It's called Power BI. It is considered a business intelligence tool that can help you to complete numerous tasks in fewer steps than other programs on the market. This, in turn, will allow you to focus on other core business duties. In this course, you will be introduced to the various features that Microsoft Power BI offers and how each one works in real-life scenarios. The first section of the course demonstrates an easy to follow process on how to download and install this dynamic tool.
After downloading and installing it, your data will now come to life! Did you know that Power BI allows you to connect data with numerous external sources? This means that you are no longer limited to one data source as it once was. By studying this course, you will learn basic charts, maps, tables and many other elements that are extremely useful in the workplace. Examine which Power BI component will best represent, scale and layout your business data. Step-by-step methods are shown on how to format each chart or table. You will also discover how to filter, sort and update data easily. This is quite practical if your data source is an active directory that is constantly changing. Now, you may ask yourself, "What good is a report if I can't share it with my colleagues?". This is one of the major issues that many people have come across because in some applications this is limited or you need an expensive software license. This course also teaches you how to share and prepare easy to understand reports.
As your enterprise grows and becomes successful, it can become increasingly difficult to keep data up to date. This can create a barrier for key decision-makers who need current information to base their company decisions on. You will study how to set up an automatic data refresh that gives all authorised users the latest facts. Toward the end of the course, you will consider how to add different elements into your reports that help to convey information and ideas in an effortless way. Did you know that Power BI allows you to create buttons that can be linked to specific web pages? This helps to transform your data into rich visuals and can potentially enhance decision making. Anyone with an interest in learning about Power BI will gain a lot from this course. Studying this course will help managers, analysts in their first-time jobs and anyone thinking about managing and analysing data for businesses. It provides techniques and strategies behind creating rich, personalised reports, publishing reports online safely, and integrating seamlessly with existing business environments. Team member managers, students and more can benefit from learning about the fundamentals of using Power BI as a business intelligence tool.
Start Course Now