Introduction to Analysis with Power BI Desktop
Learn to design robust data models and amazing reports to improve business intelligence in this free online course.
Publisher:

Jordan Goldmeier
Level-up your skills of interpreting, producing, or expanding reports and dashboards with this free online Power BI course. You will learn how to confidently load and transform data using Power Query and create visualizations with Power BI's drag-and-drop capability. Discover how to drill down into reports and make them fully interactive, and use DAX formulas to design customized calculated columns and fields for better data analysis.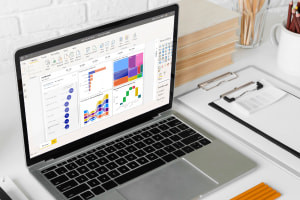 Duration

3-4 Hours

Accreditation

CPD
Description
Are you interested in plunging into the data world to experience the methods of transforming distributed data streams into unified, attractive, and engaging insights? Power BI Desktop incorporates Microsoft's established query engine, data modelling, and visualization capabilities and this free online Power BI training will show you exactly how to get the most out of this powerful software. The first part of the course will show you a short overview of the basic BI flow, including information, transformation, and presentation. Then, you will learn how to relate a dataset to Power BI, load data from a data source, process and modify the data with Power Query, and generate your dashboard. The methods of making aggregated reports of numbers using a card visualization, changing the filter context with a slicer, drilling down into your data, and using a Q&A box in your dashboards, are then explained.
The following section moves on to the features of Microsoft Excel Power Query and how to use them to change your data. You will explore the method for manipulating data and the steps for resolving specifics issues within the query table. The course then describes the concept of M code and numerous Power Query features with their functionality. You will discover how to use the "column from example" feature  without writing any code, before learning how to combine data from two tables with differing formatting into a single sheet. This part of this Power BI certification also teaches you how to use the Merge feature in Power Query in creating a relationship between two tables to search data and retrieve matching results.
The last part of this Power BI tutorial outlines some key points about DAX that will help you understand the concepts and uses of DAX formulas while working on the Power BI Desktop for data analysis. You will discover the technique of creating a calculated column with values from related tables and how to use filter context to focus on the specific value inside a row. In addition to that, the course content will teach you how to create a way of showing multiple things more than once in your measure tools, using the CALCULATE function. Some other key topics in the last section of this in-depth Power BI online training discusses the time-intelligence functions, conditional formatting, and query parameters. Data analysis and data science skills are in-demand across a range of fields because of the advent of Big Data and the modern digital world and enrolling in this comprehensive course will teach you all the expertise and techniques needed to prepare interactive reports with visual statistics.
Start Course Now