Introduction to Excel 2013 Power Business Intelligence
Learn how to use Excel 2013 Power Business Intelligence features and functions, and give your Excel skills a real boost.
Free Course
Excel 2013 is a powerful tool, but it is almost endlessly large. There are so many Excel features and functions that few people know how to use all of them, and very few people really know which ones are the most important. This course will give you a full overview of how to use one of the most useful Excel 2013 features - Power Business Intelligence - so that you can bring your Excel skills to a really productive and impressive level.
Take this certificate on your own.
Start now and learn at your own pace.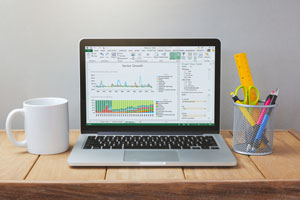 Description
This course will give you a strong understanding of the Power Business Intelligence (BI) functions you can add to Microsoft Excel 2013. The course begins by introducing you to the most important Power BI tools and how to set them up in Excel 2013. You will then learn how to create a power query to get data from a web page, how to modify your power query, and how to add the data from the query to your Excel worksheet. You will also learn how to use Power Pivot to manage your data, and will be given an overview of the steps involved in adding an image url to Excel.
The course will then show you how to prepare your Excel data model for creating a Power View. Here, you will learn about the most effective visualizations you can use to display your data in Power View and how to interact with reports in Power View to get them to display different data. You will also learn about tiling a card report so it won't affect your other reports in the same Power View, and how to add a simple map to display within your Power View. Finally, this course will teach you how to create Power Maps and about the data you need to modify in your data model in order to activate it.
If you are interested in a career in business, accounting, or finance, or if you just want to expand your Excel 2013 skills in the most productive way possible, then this is the course for you. The knowledge here can give you the ability to better manage your data and produce much more dynamic and engaging presentations, both of which will enhance your career and make your professional life much easier. So check out the course, and in just 4 hours you'll have learned a great new skill.
Start Course Now