High Performance CPR, Emergencies and First Aid for Lay Responders
This free online course will equip you with the skills required to respond to a wide range of medical emergencies.
Publisher:

Arthur Jackson
Did you know that in the event of an injury or accident, the average person saves nearly 90% of the lives at risk, making a significant difference in survival rates? In an emergency, where seconds can mean the difference between life and death, it is critical to make the right decision and assist those in crisis with proper care until medical professionals arrive. Discover how you can be ready to help save a life by enrolling in this course now.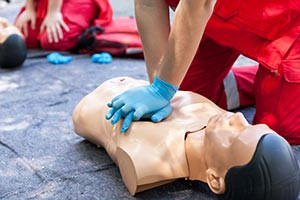 Duration

1.5-3 Hours

Accreditation

CPD
Description
Today's environment, when we value security and require everyone to wear seat belts, cross the road properly, and have bandages and medicine at home and work, do we truly understand how to respond to an injury? Do you know what to do when a pot of boiling water causes severe burns or someone trips and falls down the stairs, breaking an arm or leg? This course incorporates the latest guidelines to equip you with the necessary lifesaving first aid and cardiopulmonary resuscitation (CPR) skills required for the workplace or home. It begins by going over the different aspects of CPR, its origins and evolution. In addition, you will learn how international CPR-related regulations change worldwide and how they evolve in various directions. The various legislative laws that govern lay responder behaviour and response activities are also explained. You will learn how state and local laws enacted in the United States protect lay responders.
The section that follows delves into the complexities of crises as well as the various laws that govern CPR. Next, the problems of emergency circumstances are described. Discover how an emergency integrates a physical response or physical hurt with mental injury. Furthermore, you will learn about the various legal aspects of CPR as well as the significance of the SMACK concept in providing protection to lay responders. The importance of personal protective equipment (PPE) in preventing cross-contamination is also discussed. The course also discusses how people in an emergency treat various types of patients and how ventricular fibrillation and dysrhythmias can be recognised using an automatic external defibrillator (AED).
Finally, the importance of educating lay responders in providing first aid to patients is discussed. Learn about the process of providing medical care for various diseases and illnesses, and discover the link between first aid and the arrival of an ambulance. The steps for putting together a first aid pack for optimal use are also broken down. Then, the subtleties of various illnesses are discussed, such as the distinctions between physiological and respiratory choking emergencies. This will include standards for administering first assistance to people suffering from a variety of acute and environmental ailments. Lastly, you will learn about the activities that cause muscle, ligament and tendon soft-tissue damage to comprehend the causes, symptoms and treatments for a variety of bone and joint injuries. Enroll in this course to discover the most up-to-date skills and practises for providing lay care during times of distress.
Start Course Now