French for Beginners
Take your first steps to fluency in French and move from beginner to intermediate level in this free online course.
Publisher:

Stay Curious Media Ltd
Dubbed the 'language of love', French is spoken daily by over 270 million people in over 54 countries. This free online course guides you through the first steps of your French journey from beginner to intermediate level. We explain how to read and write in the language and show you how to conjugate verbs and pronounce words correctly. This course enables you to handle many day-to-day situations in French comfortably.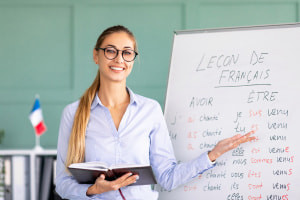 Duration

1.5-3 Hours

Accreditation

CPD
Description
Do you want to learn French? This course helps you master this popular global language and explores some of its basic vocabulary and grammar. We begin with greetings and introductions before delving into polite words like 'please' and 'thank you'. We then cover various ways to apologise. The course then demonstrates the correct constructions and pronunciations of French letters and numbers. We teach you colours and how to form sentences with them while breaking down why some have both masculine and feminine grammatical forms. The course then moves on to foods and animals.
Next, we study verbs and how to conjugate them in French. We show you how to join them to pronouns like 'I', 'you' and 'they'. We then introduce you to important regular and irregular verbs to memorise. The course highlights the correct ways to conjugate French verbs ending with '-er', '-ir', '-re' and '-oir'. We discuss how to use the French words for time, from minutes and hours to days, weeks, months and years. The course then provides ways to link words ending with vowels to those beginning with consonants. We also cover the family tree and how to list and form sentences about your relatives.
The course demonstrates how to ask questions in French and examines the correct pronunciation of questions such as 'qui', 'quoi' and 'où' with the silent 'U'. We study vocabulary related to human body parts and show you how to handle French imperative verbs. We teach you some adjectives in French and how to use them to describe your physical characteristics. The course concludes with language describing things you find in the house, supermarket or when giving directions. This free online course suits anyone who wants to learn French and doesn't require any experience with the language before signing up. Each lesson is accompanied by examples and exercises to let you try out your new skills as you master this famously beautiful language.
Start Course Now