German for Beginners
Learn how to read and understand the German vocabulary and grammar within a few hours with this free online course.
Publisher:

Stay Curious Media Ltd
German, one of the most powerful languages in the world has millions of native speakers, and learning this West Germanic language is not as difficult as you envisage. This free online course will simplify the learning process to your understanding. You will begin with the German Alphabet, then move on to greeting expressions, manners and basic vocabulary such as colours, numbers, family members, etc. The course is fun and engaging. Sign up today.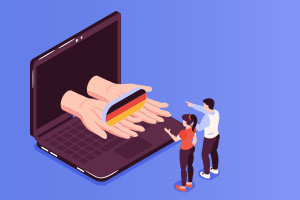 Duration

1.5-3 Hours

Accreditation

CPD
Description
The German language is a West Germanic language and the official language of six European economic, industrial, and political powerhouses. Speaking this Germanic language is not as difficult as it may seem. This free online course aims to make it as easy as possible for you to be able to read, understand and write the language. To help you achieve this, the course will begin with the German alphabet. You will learn how to pronounce each letter in German and be introduced to some forms of the letters such as the umlaut vowels, es-tset (ß), sch, sp etc0, which makes the language special. Since greetings are the first thing to do when you meet someone, you will study how to greet and introduce yourself in the German language. Then, you will learn to express yourself in a respectful and well-mannered fashion, as you learn the German vocabulary that covers this. Exercises in this section will help you practice as you go along.
Next, you will learn about numbers in German and be given reasons why you have to read the numbers from the right to the left starting from thirteen. You will also study colours and some important objects such as the table, chair, bag, etc, in German to help you form sentences using the objects and colours. Then, you will be taught how to pronounce the most common drinks, food, and animals in German. Also, in an exercise and practice section, you will discover how to form sentences using foodstuff and animals. Moreover, you will study verbs and be shown how to conjugate them in German. The various ways in which to conjugate both irregular and irregular verbs with pronouns will be explained. Thereafter, you will be taught the days of the week and months in a year in German. How to express the date using sentences will also be covered.
Furthermore, you will learn how to say the time in German. You will first study how to ask the time when you meet someone and then be taught the ways to answer when someone asks for the time in German. Following, you will acquire knowledge on how to use common question mark pronouns like who, what, when, etc. You will also be given some exercises to figure the time in German when asked using those question mark pronouns. Also, you will cover the family tree in German, practising how to list and form sentences using your family members, from the grandparents, relatives to great-grandchildren. Additionally, you will explore some adjectives used to describe human emotions and feelings. How to conjugate these emotional vocabulary words will be highlighted. Lastly, you will cover the basic parts of the human body in German. The plural and singular forms of each part will be discussed. Throughout this course, you will be given numerous exercises to help you understand and practice what you have learned, so get started now and add German as one of your spoken languages.
Start Course Now