Family Counselling, Marriage and Couples Therapy
Learn about counseling and its applications in resolving emotional and psychological issues in this free online course.
Publisher:

One Education
Ever wondered why emotional and psychological issues arise and how one can overcome them for an improved and fulfilling life? Satisfy your curiosity by learning about the fundamental counseling theories that will help you understand common mental health issues and their solutions. You will be taught different emotional and relationship problems that couples, children and adults face and techniques to solve those problems.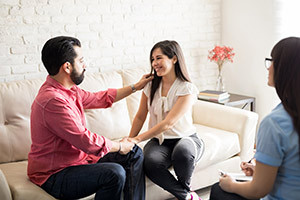 Duration

4-5 Hours

Accreditation

CPD
Description
Counseling is a technique that aims at preventing mental health issues from impacting a person's life by employing education and short-term treatments. You will learn about counseling and its theories, its history and the role of counselors in helping clients with their emotional and psychological wellbeing. Counseling adults takes a different approach from counseling children. This is due to children's inability to accurately communicate their feelings. Learners will be shown the approaches used to counsel children and adults as well as how to treat children and adults according to their respective mental faculties. Making a marriage work is one of the most difficult and important tasks in an individual's personal life. Do you want to make your marriage work? If that's the case, you'll discover the importance of seeking couple therapy. Following that, you will be taught the communication barriers couples face and various techniques of resolving relationship issues in order to live an emotionally fulfilled life.
Conflicts are part of every relationship and it is unrealistic to assume a life without conflicts. Learners will gain knowledge of the importance and role conflicts plays in a couple's life and ways to resolve conflicts to improve their relationships. Also, you will learn how to cultivate and maintain intimacy as a couple by understanding your partner's needs and values. In a relationship, both partners are liable to make mistakes and hurt each other. If a couple wants to enjoy a healthy and strong relationship, it is imperative that both the spouses believe in the idea of apology and forgiveness. Learners will be shown the importance of apology and forgiveness and how to apologise and forgive if one partner has done something wrong to the other. Learners will be taught the characteristics of a secure and stable relationship, the importance of managing finances and methods to strengthen a secure base as a couple.
Infidelity is one of the major causes of divorces and it is often very difficult for a cheating partner to regain trust after an affair. You will learn about types of affairs, the causes behind infidelity, how to open conversations about the issue and ways to promote healing and rebuild your relationship. This course will provide you with a thorough grasp of the legal, cultural, and ethical challenges in professional counseling allowing you to work effectively while overcoming them. You'll gain exceptional and empathic communication skills by completing the course, which is the most important requirement for providing effective family, marriage and couple counseling. This course is designed for beginners and learners in the field of psychology and counseling as well as for anyone interested in improving their own emotional and psychological health. Do you want your counsel to be the brain behind the success of many marriages, families and couples? Don't miss out on the opportunity to enhance your knowledge on counseling. Join the course now!
Start Course Now