English Grammar and Vocabulary - The Weather (Advanced Level)
Learn how to discuss the weather in English and explore pronouns with this free online course.
Publisher:

Advance Learning
This English language course teaches you the grammar and vocabulary you need to discuss the weather, a popular topic for small talk. We lay out the English words, collocations, weather-related idioms and expressions that are commonly used to describe various weather conditions. We also study the use of generic, reflexive and reciprocal pronouns and use audio recordings and exercises to help you refine your English speaking and listening skills.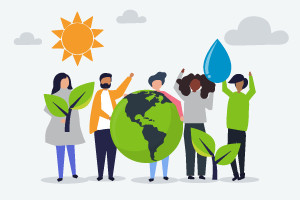 Duration

1.5-3 Hours

Accreditation

CPD
Description
This course provides the vocabulary used to describe different types of weather. We delve into phrases and collocations that are frequently used to describe weather (such as 'bitterly cold' and 'a rough sea') and examine common weather-related idioms and expressions (like 'it's raining cats and dogs').
In terms of grammar, we study the use of generic pronouns such as 'you', 'one' and 'they'. We then go over reflexive pronouns ending in '-self' and '-selves' and reciprocal pronouns (for example: 'each other' and 'one another').
This course is designed to help you gain confidence with your expanding English skills. The weather is considered a standard topic for small talk and casual conversations so we can help you to feel comfortable in social situations. The course employs audio clips, examples and exercises to help you improve your English pronunciation as you discuss the weather.
Start Course Now