English for Tourism - Restaurant Service
Learn more about how to speak English as a restaurant employee, with the help of this free English grammar course.
Publisher:

Connexions
English is one of the most widely spoken languages in the world, and a major requirement for almost anyone working in the tourism or restaurant industry. This makes it essential for restaurant staff to have a strong understanding of basic English for use within their restaurant. This free online course will quickly and clearly teach you the most important areas of English grammar and vocabulary for when you are working in a restaurant.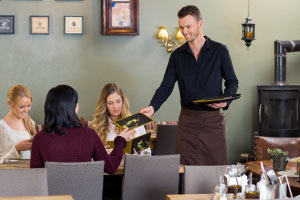 Duration

1.5-3 Hours

Accreditation

CPD
Description
Recommending and comparing dishes is an important part of the role of restaurant staff. This is why it is important for them to learn the proper use of English adjectives and comparative adjectives. This course will teach you how to create a comparative form of one-syllable and two-syllable English adjectives. You will also learn how to form the passive voice of a sentence and use it for describing restaurant dishes. This is very important because it helps diners focus their attention on the food.

Using the past participle as an adjective is a common theme restaurant menus. When explaining how dishes are prepared and cooked in English, restaurant staff should use this grammar form. This course will teach you the proper use of the past participle as an adjective. You will also learn that on many English restaurant menus there are French words and phrases, so the restaurant waiting staff must also be familiar with some French terms to effectively describe certain dishes.

Understanding the rules of English grammar is essential for every restaurant staff, especially if their restaurant is a big player in the local tourism industry. Upon completion of this course, you will have a much stronger knowledge of key English expressions as well as the correct usage of the English past participle and comparative adjectives for use as a restaurant employee. So, check out this course today and start enhancing your English skills in just a few short hours.
Start Course Now
h