Electrophoresis and Product Isolation
This electrophoresis and product isolation course covers the relevant concepts of electrophoresis in genetics.
Publisher:

NPTEL
This free online electrophoresis course provides an in-depth knowledge of product characterization and deals with the basic principles of electrophoresis. Learn about the process of performing electrophoresis with a detailed demo session and the sequencing techniques for biomolecules. By the end of the course, you will be familiar with spectroscopic techniques and their roles in molecular processes. Register for this course and get started today!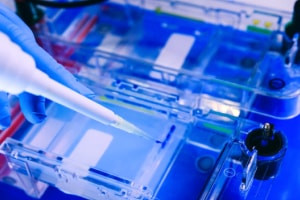 Duration

3-4 Hours

Accreditation

CPD
Description
Electrophoresis and Product Isolation is a free online course from Alison that begins with an analysis of the process of characterizing the products obtained from the host cells. You will also learn about the nature of the products derived. You will discuss electrophoresis, the importance of electrophoresis, and the types of electrophoresis. You will then learn about the basic principles of staining, the types of stains, as well as the key things to look out for in a standard staining procedure. You will also study image analysis and the different variants of PAGE.
The course then explains the concept of western blotting, the determination of molecular weight, and protein-to-protein interaction. You will also analyze the process of protein sequencing as well as the sequencing of the polypeptide chain. You will study spectroscopy, the types of spectroscopy, as well as their respective functions. Next, you will learn about the small molecule chromophore and the biological chromophore.
Furthermore, you will discuss Beer-Lambert's law, the concept of UV-visible spectroscopy, and how it can be used to detect any structural changes in a molecule. Finally, you will learn about the IR spectroscopy and the phenomena on which it depends. This free online course will be of interest to students, researchers, and anyone with an interest in the field of biotechnology. So, register for this course and start your next learning journey today.
Start Course Now