Diploma in Solar Thermal Energy and Technology
In this free online course, you will learn about solar thermal devices for heat collection, storage, and applications.
Publisher:

NPTEL
This free online course reveals to you the wonders of technology that allow us to harness and utilize huge amounts of solar thermal energy, without the need for expensive photovoltaic cells. You will learn about the advances in solar thermal collectors and storage systems, including the newest trends and research in this field. You will also learn about interesting applications and methods of electricity generation using solar energy.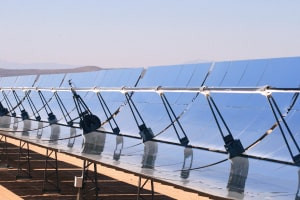 Duration

10-15 Hours

Accreditation

CPD
Description
This free online course brings you a fresh perspective on our solar energy future. You will learn that we needn't depend solely on photovoltaic technology to take advantage of the sun's abundant energy. The heat component of solar radiation can also be utilised to generate electricity more cost-effectively. But why only electricity? We can use this vast amount of free-flowing energy for our heating requirements at home and in industries. We can also store this heat in various forms for later use. We can even combine solar thermal and photovoltaic technologies to provide cheap, reliable, and affordable energy to the far-flung corners of the world. Surprisingly ingenious yet straightforward technology is making all this possible. The technologies, however, are still evolving, but in which direction? What are the emerging solar technologies? Take this course to find out the answers to these captivating questions.
To understand how solar thermal energy can be captured, you must first understand heat transfer science through various mediums and modes. This course begins by explaining the basic principles of heat transfer employed by solar collectors. You will then learn about the different types of solar thermal collectors, their construction, mode of operation, efficiency levels, and challenges. Next, you will learn about solar air heaters and their applications, including power generation. Of course, solar radiation being available only in the daytime and with clear skies, reliable and affordable energy storage is a prerequisite for using solar energy. The next part of the course deals with different methods of heat storage, which are currently in vogue. A fascinating method is a solar pond. This course also looks at the emerging solar technologies, including new and trendy solar cells, solar fuels, solar photovoltaic thermal technology, and the various new solar energy applications, including refrigeration and cooling and solar pumping and cooking.
Solar energy is undeniably the most promising resource to ensure a sustainable future for the planet. It is not enough that we get plenty of it for free. Nor is it enough that we have invented photovoltaic systems to convert sunlight to electricity. We cannot afford to let the sun's heat go to waste while we continue to burn coal for our energy needs, polluting our environment. The world needs more scientists and engineers to capture solar thermal energy and then store it for later use. You could be one of those engineers or researchers at the forefront of the sustainable energy revolution. If you have a basic knowledge of thermodynamics and high-school level mathematics, dive into this course to get a feel of the amazing technologies that are evolving around solar thermal energy, and prepare yourself for a rewarding career. It's a rare opportunity, seize it now!
Start Course Now