Diploma in HSK Level 3 Conversational Chinese
This free online course will help you master the HSK Level 3 grammar and basic daily conversations in Chinese Mandarin.
Publisher:

Ms. Wu
If you have completed the HSK Level 1 and Level 2 Conversational Chinese courses, then this course will help you progress further in mastering Mandarin. The short video lessons will teach you new vocabulary and grammar to have longer conversations in Mandarin. Completing this course will add yet another milestone to your foreign language proficiency, which will be helpful in tapping new opportunities, whether at studies or at work.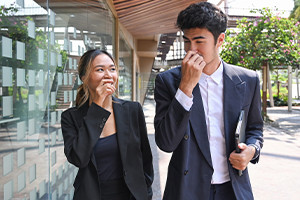 Duration

10-15 Hours

Accreditation

CPD
Description
After completing the level 1 and level 2 study for the HSK exam, this course will prepare you for the level 3 exam. Learners like you have some common questions like, how difficult is HSK 3? How long does it take to learn HSK 3? The HSK level 3 assesses how well you can apply everyday Chinese. This course will cover many relevant topics like discussing personal plans, comparing and describing people or things, Chinese culture and general etiquette. Each lesson has practice questions to help you grasp the essentials of grammar and vocabulary as you progress. Learning any new language entails dedicated effort and determination. As you listen and practise with each video lesson, your confidence in your abilities will increase. In this course, you will also test your knowledge of understanding the Chinese characters on their own, without the use of pinyin. The exercise may sound challenging, but it is not impossible.
The first module of the course focuses on how to compare, emphasise and talk about changes. The Chinese language uses idioms expressed in four characters. How can these idioms enrich your vocabulary? A question worth asking, and the answer lies in knowing some of the common idioms. You will understand their usage along with new sentence structures. In addition, you will learn to express large numbers and approximate numbers. Does the Chinese language have conjunctions? Yes. How many Chinese classifiers are there? Many. How do you say pronouns in Mandarin? The second module of the course will explain the correct use of conjunctions, classifiers and pronouns. You will get more comfortable using interrogative pronouns, complex complements and telling a story. Can you use more than one verb in a sentence? In Chinese, you can, and this course level will teach many more grammar structures. A revision section in the second module of the course will give you some pause in assimilating your learnings.
How do you complement in Chinese? This question is yet another common query. The course's final module deals with complements in detail, and you will also learn to express fractions, percentages, and multiples. This course will cover around 150 sentence patterns, more than 800 new words and grammar related to comparisons between adjectives and the use of adverbs. The ten different topics range from getting to know someone to talking about the environment, which explains the broad vocabulary spectrum. The advantages of learning Chinese are many. Knowledge of Mandarin will help you communicate with the locals in Taiwan and Singapore. The added proficiency in Mandarin can be of immense help if you are a student in any of these countries. Your business opportunities will grow as you can tap newer markets. It will be easier for you to connect with Chinese colleagues even abroad. So, take advantage of this course which is available to you in an easy to follow format. Enrol now.
Start Course Now