Diploma in Global Digital Literacy
Gain digital literacy skills to safely and successfully navigate the internet with this free online course
Publisher:

mEducation Alliance
This diploma will provide you with an in-depth understanding of how to navigate our digital world through practical skills and critical thinking. You will discover how to find, evaluate, and manage online data, and use digital tools to communicate, create, and problem-solve. You will also learn how you can harness these powerful skills to become an entrepreneur, advance in your studies and/or career, and create positive change in the world.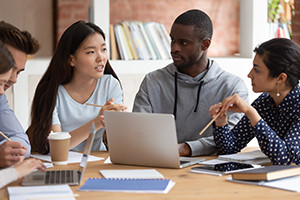 Duration

15-20 Hours

Accreditation

CPD
Description
This 15-hour Global Digital Literacy diploma is for learners who want to gain an in-depth understanding of how to effectively and safely use digital technologies including the Internet. With fake news and deepfakes on the rise, it's more important than ever to learn about data literacy, and how to recognize misinformation and disinformation. You will also discover the importance of creating a positive digital identity.
As you complete the course, you will develop skills in digital communication, collaboration, and creation. Ever wondered how to create your own website or the best platforms to use for project collaboration? You will see examples of free ready-to-use digital tools along with step-by-step guides on how to utilize them. Plus, the important topic of safety explains how to recognize and protect both yourself and your devices from common risks and threats.
Throughout this course, you will gain insights into becoming a digital entrepreneur. You will also learn how you can harness your newfound digital literacy skills to become an advocate, activist, or changemaker. There are multiple case studies throughout to give you real-world examples of those who have made changes within their own community as well as individuals who had more far-reaching impact in various regions around the world. Begin the course now to gain the knowledge that will empower you to navigate our ever-evolving digital world effectively and safely.
Start Course Now