Diploma in Early Poetry Reading and Writing
Meet era-defining writers as we explore the form and function of early English poetry in this free online course.
Publisher:

NPTEL
This free online course teaches you the fundamentals of English verse written during the Elizabethan, Romantic and Victorian periods in England and Britain. We take you through the early development of prominent poets and explain the different forms and functions of their work. This course also demonstrates the relevance of poetry in everyday life and its impact on culture and society, whether you're inspired by song lyrics or more formal verse.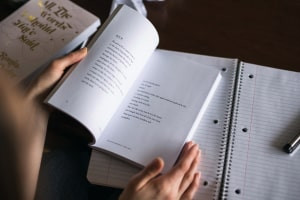 Duration

10-15 Hours

Accreditation

CPD
Description
Poetry is an expression of words that unblocks the mind and allows it to move beyond language's usual conventions. This course escorts you through the verse of the Elizabethan, Romantic and Victorian Eras in England and then Britain. We also demonstrate the ongoing relevance of poetry as a mode of higher expression that moves us to thought and action. This course combines close reading of specific poems with analysis of their context to help you appreciate its changing forms and functions. Understanding these elements is essential for understanding poetry as a whole so we unpack poetic devices like rhyme and rhythm.
We unlock some of the Elizabethan era's secrets as we examine its poetic forms and themes, focussing on sonnets and their authors, like the renowned William Shakespeare. The course then moves on to the Romantic period and its distinctive lyrical ballads. We investigate the themes and devices favoured by writers like William Wordsworth and Samuel Coleridge to make clear how their famously passionate poetry spoke to its time.
Lastly, we explore Victorian verse, in particular the dramatic monologue. We begin with Robert Browning, who is considered the master of this poetic form, and his wife the influential Elizabeth. The course wraps up with more attention to other prominent nineteen century poets and offers intellectual tools to anyone interested in poetry or language in general. Do you appreciate the beauty of the written word that expresses itself in a rhythmic form? Do you relish emotive language and like the intensity created by poetry? Then this course is for you as it offers insight into the words of the past while handing you the important skill of decoding text for meaning.
Start Course Now