Digital Art With Clip Studio Paint
Gain skills to create and edit various easy digital art projects using Clip Studio Paint in this free online course.
Publisher:

Stay Curious Media Ltd
This course will teach you how to make digital art with Clip Studio Paint. You'll learn about the various panels in Clip Studio Paint, and the many features it has to offer. A basic explanation of the steps involved in creating a digital artwork will be provided along with simple and understandable examples to make it easy to follow through. You will be given all of the insights you need to create unique and beautiful digital artworks.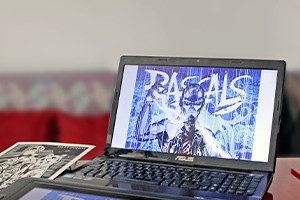 Duration

1.5-3 Hours

Accreditation

CPD
Description
'Digital Art' refers to any artistic work that involves the use of digital technology in its creation or presentation. Digital mediums are being used by artists all over the world to create intricate, beautiful, and creative masterpieces. Organizations all over the world are also utilizing digital mediums to create intelligent and powerful marketing strategies. Digital art has nearly unlimited possibilities. There are numerous software programs available on the market for creating digital masterpieces. This course will concentrate solely on Clip Studio Paint for the creation of digital art. Clip Studio Paint is a one of a kind software that offers creation, editing and sharing capabilities. This free online course will teach you the fundamentals of creating artworks with Clip Studio Paint.
To begin with, you will be introduced to the interface of the software. You will learn about the various menu items, as well as the various panels that are available for use. Clip Studio Paint has a fantastic feature for layering project elements. The significance of layers and how to use layers in Clip Studio Paint will be discussed. Following that, you will learn about the various brushes in Clip Studio Art. The proper way to select a brush for your project will also be covered. Any project created in Clip Studio necessitates a series of steps to ensure a smooth workflow of everything. This course will teach you how to create rough drafts and decide on minor details before moving on to the final look of the project. Further on, you will be introduced to colour palettes and tools used in the selection and blending of various colours as well as an interesting feature of Clip Studio Paint, that is known as 'correction layer'.

The next section of the course will focus entirely on creating colourful portraits and the settings involved. You will learn the various steps that are sequentially involved in creating a complex colourful portrait, as well as how to ease things up during the process. Various keyboard shortcuts for different functions will also be explained. Finally, you will learn how to add layer masks and adjustment layers to digital artworks. This course will equip you with the necessary information to level up your digital design skills and is suitable for anyone who wishes to build a career in graphic design or simply learn how to create digital art. Grab this opportunity and enrol now!
Start Course Now