Coronavirus - Wetin you suppose to know
This free online course cover the correct aspects of the coronavirus Covid-19
Publisher:

Advance Learning
This free online course on the novel coronavirus (Covid-19), focus on how e take start, how e take de waka from persin to persin, wetin show sey persin get am, how to take cure am and prevention of the novel coronavirus. As part of the international response, Alison don create this free online course on wetin persin need to know about the novel coronavirus, e background, and how to fit fully deal with the threat wey e dey cause you and family.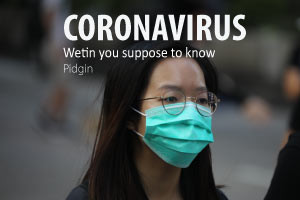 Duration

1.5-3 Hours

Accreditation

CPD
Description
This free online course on the novel coronavirus focus on how e take start, how persin go take know sey e get am, how e take dey waka from person to persin and how persin go take avoid the virus the virus wey dem never see for human body before. Coronaviruses (CoV) na part big family of virus wey dey cause small sickness like from cold go reach big sickness like, Middle East Respiratory Syndrome (MERS-CoV) and Severe Acute Respiratory Syndrome (SARS-CoV). Coronaviruses dey zoonotic, meaning sey dem dey waka from animals and persin.
For this course, we go talk about how outbreak of the virus fit cause serious wahala to the health of persin wey e don affect, and the wahala or the health of communities and countries wey the outbreak dey. Common signs to show sey persin get am na; respiratory symptoms, fever, cough, perisin no fit breath well . For many big country wey case dey, infection fit cause pneumonia, severe acute respiratory syndrome, kidney failure and even death. 
This course na new mata, wey dey base on information wey WHO (World Health Organisation), Geneva, Switzerland, and the CDC (Centre of Disease Control, USA) provide. This course na part of mata wey Alison give to bring quick development to global learning certification system to fit fight this disease wey dey spread quick-quick. We go dey update this free course from time to time and e go come dey for more than 100 languages at the end of the day. For persin to take encourage awareness and get understanding of this virus and the threat wey e dey give, Alison don make PDF Certification course dey, free of charge for the whole world. AS u choose to take this course, e go make you keep yourself up to date on how you go fit fully fight the novel coroanvirus wey dey worry us. So, why weti you dey wait for? Start the course today and for just 1 to 2 hours. You go gain the knowledge wey go help you protect yourself, your family and community, so that you no go get and tranfer this disease from persin to persin.
On Feb 28th 2020, WHO (the World Health Organization) talk sey e don raise e risk assessment as e concern COVID-19, to "very high" for the whole world. 
Start Course Now