Core Excel Skills For Accountants and Financial Professionals
Learn the core Microsoft Excel skills every accountant or financial professional needs in this free online course.
Publisher:

The Excel Club
This course provides the fundamental Microsoft Excel skills that every accountant or financial professional requires. We cover important features from logical tests involving 'IF' statements to pivot tables and the new dynamic array functions. We teach you the key Excel features used daily in bookkeeping and to give financial presentations. This course provides valuable spreadsheet skills that can take your financial career to the next level..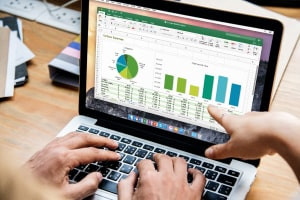 Duration

1.5-3 Hours

Accreditation

CPD
Description
Microsoft Excel is the tool of choice for most accountants and financial professionals, and possessing advanced Excel skills can make a real difference to your career prospects. However, many bookkeepers and financial officers lack the fundamental Excel skills required to carry out daily tasks efficiently and accurately. These abilities include the use of logical tests and 'IF' statements, lookups and pivot tables.
This course has been designed and developed by an accountant and focuses on the Excel skills used daily in the industry. Some of these skills are basic, such as summing with criteria and using logical tests. However, some are advanced, like the use of dynamic arrays. Each of our topics represents a necessary ability for the job and familiarity with some of the newer features of Excel 365 can put you ahead of the curve.
This short training course provides you with a basic knowledge of Excel and covers logical tests and 'IF' statements, lookup formulas, summing with criteria, working with tables, pivot tables and dynamic arrays. We use workbooks and exercises to allow you to practice your new skills, grounding your newfound theoretical knowledge in practical demonstrations. Excel is an industry-standard tool for those working in finance, so sign up to add this popular spreadsheet program to your portfolio.
Start Course Now