Career Strategy: Master The Best Practices of Fortune 500 Firms
Master the best practices of Fortune 500 leaders to map out a smart career strategy in this free online course.
Publisher:

Gleb Tsipursky
Are you looking to develop a sustainable and prosperous career in today's ever-changing world? If this question intrigues you, you have come to the right place. In the post-Covid era, making suitable career choices is more challenging than ever. Having worked with some of the brightest minds, including those of Fortune 500 companies, globally renowned expert Dr Gleb Tsipursky takes you on a career-shaping journey to make your dreams into reality.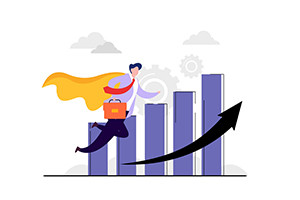 Duration

3-4 Hours

Accreditation

CPD
Description
Are you constantly fretting over your career trajectory in both the short and long term? Or are you looking to make a major career change that is causing a sense of anxiety? If you fall into either of these categories or are riddled with other career-related uncertainties, then you are not alone. This course on career strategy is here to make career-related decisions a whole lot easier. Dr Gleb Tsipursky is a globally-renowned cognitive neuroscientist and behavioural economist who has mentored numerous individuals, including leaders from successful Fortune 500 companies. He kicks off the course by explaining how judgement errors or cognitive biases can impede us in a long-term career. He explains other positive cognitive behaviours that ensure your career path does not face a dead-end. You will discover that no one can achieve their goals by themselves and influencing the right people around us is vital. Dr Gleb discusses his strategy to become an effective communicator.
Are you struggling to make quick yet effective decisions for your career? The next section of the course will help you make immediate yet effective decisions to save precious time. The '5 questions' model developed by Dr Gleb is the right tool to ensure that swift decisions are measured and effective. Next, he provides crucial information on the 30 most dangerous judgement errors that overlook blind spots. This information will help in not only assessing these weak points but also in avoiding them. Are you looking to leave a job and start your own business? Or perhaps thinking of moving to another country to pursue a different career line? These major decisions require careful use of your judgement. Dr Gleb's 8-step technique to make major career decisions will effortlessly help you make these decisions. Another major issue many of us face is dealing with colleagues. Their refusal to accept reality results in poor decision-making. We will explore the '5-step EGRIP' technique, which can assist you in dealing with the famous 'head in the sand' phenomena in a much more enlightened way.
If you are looking to make a long-term, strategic plan for your career, then Dr Gleb's '7-step' plan is for you. This technique provides you with the right information to draw out a viable strategic plan for your career by carefully considering all the uncertainties that may come your way. Failure is an inevitable part of our lives and careers. However, we need to equip ourselves to prevent it from happening repeatedly. Dr Gleb will explain the research-based 'defend your future' technique to ensure that your career path has a safe trajectory. The post-pandemic world faces more uncertainties than ever before and everyone could do with a foolproof career strategy. Having the right tools in your bag is crucial for success. This online course will equip you with the necessary arsenal to face any challenge. Under the mentorship of Dr Gleb Tsipursky, learn about the methods and techniques that can help you map out a sustainable career path for yourself. So do not waste any more time and enrol now for a better future.
Start Course Now