Building a Spreadsheet Model
Learn the basics of building effective spreadsheet forecasting models and business models in this free online course.
Publisher:

Ross Maynard
Spreadsheet models provide an invaluable tool for analyzing complex data sets, comparing various scenarios, and making decisions that would otherwise take much longer and greater effort. This free online Microsoft Excel training course will introduce you to the basic principles and procedures for making spreadsheet models for forecasting, evaluating different scenarios and business decision-making purposes.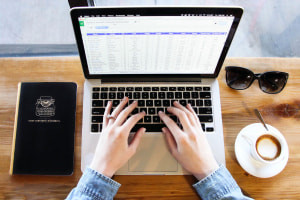 Duration

1.5-3 Hours

Accreditation

CPD
Description
Decision-making in a business environment is influenced by numerous factors, which can be difficult and time-consuming to analyze without an automated tool. This free online Microsoft Excel tutorial will teach you the basic principles and procedures for creating spreadsheet models for forecasting, business analysis, and decision-making. The course will begin with an introduction to the guiding principles of spreadsheet model building that ensure that one can create a robust, effective and user-friendly model. You will also learn about the key elements that a spreadsheet model must contain. In particular, you will study the purpose and scope of a model with the help of practical examples. After that, you will uncover the definitions, assumptions and sources of data used in a spreadsheet model. This is essential for the model users to know about the model's terminologies and the origin of the data, bearing in mind that many users will be non-experts in spreadsheet modelling. At this stage, you will then undertake an exercise that will help you to apply the knowledge gained.
The following part of this Microsoft Excel certification will take you through the step-by-step procedure of building a model, beginning with the data input process. In the next stage, you will study the intermediate calculations, what they are, and the role they play in the overall model. This will pave the way for the core model, which is the main component of the spreadsheet where the critical calculations and processing take place. The results of this processing are presented in the output data and executive summary tab. Then, you will discover how a model can be reviewed and be introduced to sensitivity analysis and building a spreadsheet model of a business. The principles and the structure of the business model will be unveiled in this section of this Microsoft Excel course. In addition, you will study the planning and decision-making process using a business model, followed by scenario planning techniques.
The last section of this comprehensive course will have you explore and learn how to present the outputs of a spreadsheet model to the target audience and to call them to action and make use of the spreadsheet models and the outcome obtained. Students of business finance and management will find this course useful, particularly in applying theoretical knowledge to practical industry examples. This Microsoft Excel training course will also be helpful to anyone else who wants to add an in-demand, practical skill for application in business and general problem-solving.
Start Course Now