Arabic Conversations on Food and Streets
This free online course will teach you the fundamentals of regular Arabic conversation used in dining and localities.
Publisher:

Muhammad Elshanawy
Did you know that Arabic integrates vital linguistic skills with potential application in over 20 countries, with approximately 300 million native speakers? Studying Arabic and the traditions of the area that speak the language will help you communicate and perform operations more effectively. Begin your journey by mastering the fundamentals of Arabic conversation about food, drinks, and location covered in this course.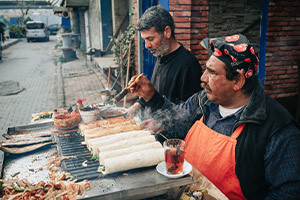 Duration

1.5-3 Hours

Accreditation

CPD
Description

This course will teach you the fundamental Arabic phrases used for conversing about food, drink, and location. It begins by demonstrating how to have food-related conversations. At the outset, you'll learn how to express your hunger and how to request a meal. The next step is to study the names of various sorts of meat so that you may make a precise meal order.
Next, the course goes on to explain how to convey thirst. You will learn how to ask for a drink. In addition to that, you will discover how to ask for water, juice or other cold beverages. The following section focuses on the address. You will explore the common Arabic words for explaining where you live or asking someone the same question. Also, you will learn how to describe what is your street name and number.
The final section illustrates how to find your way around and orient yourself in Arabic. You will learn how to explain your current location and where you live. Also, you will have an opportunity to practise the conversation learned in this course. We will also discuss the differences in the lexicon and pronunciation of the Shamya dialect. Thus, enrol in this course today and learn how to deal with situations that necessitate Arabic knowledge in just 20 videos.
Start Course Now