Learn How to Communicate in Arabic about your Occupation and Family
This free online course will teach you the essentials of Arabic conversation regarding family and occupation.
Publisher:

Muhammad Elshanawy
Did you know that in Arab families, the notion of self space differs from that of the way of life in Western countries? In general, they usually stand nearer to their same-sex communication partner. As a result, it is critical to understand the cultural aspects while interacting with them as they have complex requirements. Hence, start learning to communicate about your family and profession in just two modules!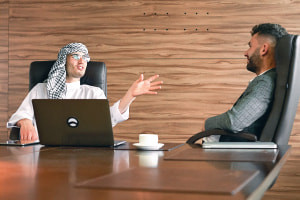 Duration

1.5-3 Hours

Accreditation

CPD
Description
This course introduces you to the basic everyday conversation in Arabic about family and occupation. It begins by demonstrating how to have distance-related conversations. First, you will explore how to convey your current location. Next, you will learn to ask for directions and indicate how far or close you are to an object in Arabic. Following that, you will explore the various kinds of Arabic conjunctions and how they connect different parts of a sentence.
The following section focuses on conversations about professions in Arabic. You will explore Arabic terminology for various occupations. Furthermore, you will learn that work titles and callings by profession differ in Arabic, and you will study both of them. In addition to that, you will learn Arabic terminology for both male and female occupations. Next, we will explain various Arabic phrases for addressing marital status. You will discover how to convey if someone is single, married, engaged, or widowed in Arabic.
The final section illustrates the transition from singular to plural in Arabic. You'll discover that irregular nouns have two plurals and how to create them. Next, you will explore how to make plural for verbs, feminine words and different professions. Also, you will have an opportunity to put everything you have learned in this course into practice. Lastly, we will highlight the differences in the lexicon and pronunciation of the 'Shamya' dialect. So, enrol in this course today and learn how to deal with situations on family and occupations that necessitate Arabic knowledge in just 32 videos.
Start Course Now