Advanced ESXi 5.5: Upgrading ESXi, Disaster Recovery and VM Monitoring
Learn about the administration of advanced ESXi, vCenter server management, and patching with this free online course.
Publisher:

Workforce Academy Partnership
Understanding what vSphere is and how it functions or fits into your virtualization environment will help you keep up with high processing and storage demands. VMware consists of ESXi, a hypervisor, a vCenter server and other important features to ensure virtual servers are up and running at all times. This free online Advanced ESXi 5.5 course explores how to use and manipulate these features to suit your VMWare needs.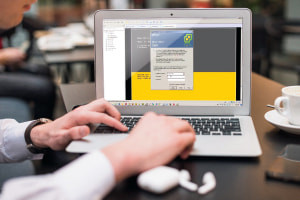 Duration

5-6 Hours

Accreditation

CPD
Description
Advanced ESXi 5.5: Upgrading ESXi, Disaster Recovery and VM Monitoring is the third instalment in the VMware 5.5 administration suite of courses. This free online VMWare course begins with a discussion on how to optimize the resources in VMware vSphere 5.5 and how its resource allocation controls more types of resources which enables VMware administrators to have even greater control over how resources are allocated to, and used by virtual workloads. VMotion is an ESXi feature and vCenter Server that allows an administrator to move a running Virtual Machine (VM) from one physical host to another physical host and you will learn how to perform a storage VMotion using the Web Client and the command line interface (CLI). Some other discussions include virtual CPUs, hyperthreading, profile-driven storage, the types of storage capabilities, how to manage storage capabilities, vSphere storage API for storage awareness (VASA), how to create VM storage profiles and apply VM storage profiles to VMs.
This course content teaches you about the sources that cause latency in virtualization and how to peg vCPUs to pCPU (physical CPU) using latency sensitive features. In many cases, high availability (or the lack of high availability) is the key argument used against virtualization. VMware addresses this concern with another feature present in VMware cluster technology called vSphere High Availability (HA). This course explains the levels of HA, high availability VM monitoring and HA Architecture after which you will study the VMware vSphere Replication which is a feature of the VMware vSphere platform. It is designed to augment the recovery capabilities of the vSphere platform by providing a built-in ability to continually replicate a running virtual machine to another location. This course then covers in detail VMware vSphere Replication, how to configure and run a recovery as well as the various alarms available for every object. The final section of this course starts by evaluating the host to VMs, host to network, host to data store and VM to network relationships on the "maps" tab. You will then discuss distributed power management (DPM) technology and enhanced VMotion compatibility (EVC). The other key themes in this VMWare course are VMware site recovery manager (SRM), VM fault tolerance and how to setup a fault-tolerant VM, vSphere data protection (VDP), various third-party backups like the PHD virtual backup, Dell/Quest vRanger (Pro) as well as veeam backup and replication. 
Whether you are in IT infrastructure or work with Virtual Machines in another capacity, this course is critical to learning all about VMWare 5.5 and how to upgrade ESXi, do disaster recovery and monitoring as well. It is a very technical skill-set that can set you apart in the market and enrolling in this Advanced ESXi course could open many career opportunities.
Start Course Now