A Guide to Meeting Arduino and LabView
Study the steps in displaying process parameters from your Arduino on LabVIEW software, with this free online course.
Publisher:

Ashraf Said AlMadhoun
Arduino boards and LabVIEW software are different entities with their individual uniqueness. Interfacing the essence of both entities would produce a more user-friendly and ease of coding executions. This free online course demonstrates how the interface of Arduino with LabVIEW reduces the line of codes required to perform tasks and demonstrates a step-by-step guide on using the LabVIEW evaluation software features easily.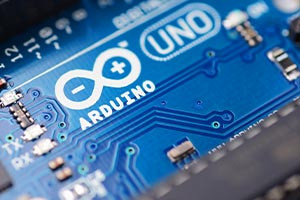 Duration

1.5-3 Hours

Accreditation

CPD
Description
Arduino is a simple microcontroller with various features and can connect with external devices to perform complex tasks. However, the programming of Arduino boards can be tedious as it involves multiple lines of code. LabVIEW is a program that comes in to make things easier. It exploits its graphical programming features to reduce the Arduino's codes into visual form and enhance execution time. This Arduino course teaches you how to connect an Arduino board to LabVIEW and program the Arduino to display sensor values on the LabVIEW visual interface. We will first introduce you to Arduino and LabVIEW, the importance of their interfacing and a heads-up on how much you can gain from this course. Subsequently, we will take you through the steps in downloading software such as the LabVIEW and Arduino Integrated Development Environment on your computer as well as how to install VISA and LINX Library for LabVIEW.
Next, we will guide you on how to use the LabVIEW evaluation software. You will compare LabVIEW with the traditional prototyping tool, learn about its virtual instruments, key controls and control structures and how data flows in the LabVIEW block diagram panel. With LabVIEW, you can write codes by simply dragging and dropping visual function blocks and this will highlight the key features and applications of LabVIEW. We will show the elements of LabVIEW's tools palette and status toolbar after which you will be taught how to create Virtual Instruments (VI) and sub VI in LabVIEW. The following section explores creating a LabVIEW block diagram and user interface in readiness to display the values of a temperature sensor. This base knowledge will help you learn how to connect the user interface and block diagram of the LabVIEW, connect the temperature sensor to the Arduino, and program the Arduino to display the value of the temperature sensor on the visual interface of LabVIEW. 
Whether you are an engineering student, into electronics, or Arduino expert, this LabVIEW course will further expand your knowledge on how to display electronics parameters on your computer to build on the spark of creativity in your projects. You will identify how you can put your Arduino boards for more innovative use with the LabVIEW evaluation software. This hands-on course is designed to practically expose you to the significance of interfacing your Arduino board with LabVIEW, master the processes of connecting elements to your Arduino, and programming the Arduino to exhibit the process values of the components on LabVIEW. You can springboard your inventive electronics projects by enrolling in this free online course which will take you only a few hours and all you need to bring is your creativity.
Start Course Now