User Interface Design With Figma
In this free online course, learn how to create user interface design, wireframes, and product prototypes, with Figma.
Publisher:

Stay Curious Media Ltd
In this free online course, the procedures for carrying out User Experience (UX) research and user journey mapping with the Figma design tool will be explained. Study the 10 principles of User Interface (UI) design, and the systems for framing, layering, and grouping objects. By completing this course, you will be able to master the creative skill for designing apps, artboards, components, websites, and product prototypes with Figma. Enrol now!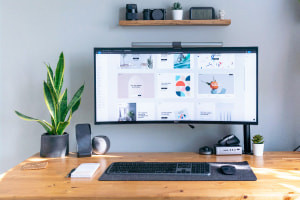 Duration

1.5-3 Hours

Accreditation

CPD
Description
Figma is an effective collaborative interface design tool, which runs on Windows, Linux, Chrome, and Mac operating systems. It is a cloud-based application with a plethora of functionality and features, including a web-based API, as well as other tools that allow limitless collaboration among team members for product development. Through Figma, users can create high-fidelity designs for software, blogs, websites, and mobile applications. In this free online course, you will start by learning the definition and scope of User Experience (UX) research. You will also examine how effective UX research aids idea conceptualization, as well as, how it enhances the design processes in product development. Learn how you can appeal to user needs by approaching your product creation models with a view of identifying the users' pain points and providing a cutting-edge solution. You will study the ten principles of user interface design, and you will be shown how to apply the principles to help you build invaluable standalone applications.
Next, you will discover one important advantage of Figma over other prototyping applications. Likewise, you will consider how you can save the delivery time of your products by selecting out of the variety of design templates available in the Figma Library. Learn how to receive important updates from your team members via the vital features of the app, which allows model testing and sharing for feedback. You will consider the two main types of files that can be created with Figma, as well as how to explore one of the important file types for planning and drafting your projects. Similarly, you will be taught the preliminary steps of product drafting, including the 4-step process for creating a user journey map. Also, the topic on how to build user persona and touchpoints will consider how to insert an image in the Figma draft area to create the user avatar for your product. Then, you will study the core concepts of project drafting, including how to create product wireframes.
Finally, you will examine the four processes involved in wireframing, including the concepts for working with colours, texts, and placements of product icons. In addition, the application of the essential Figma tools like the move, scale, shape, and add comment tools will be demonstrated. Then, you will be taught how to use keyboard shortcuts to insert shapes and objects in the project draft area. You will be shown how to use the font installer, as well as how to work with the default font in your Figma app. Then, the procedures for product layout planning, will be carried out via the practical demonstration of the techniques used for the User Interface (UI) design of a health-tracking app. You will also learn about design framing, layering, and object grouping. Likewise, you will be taught how to create a product prototype that aligns with the users' behaviour with Figma. By completing this course, you will be able to create functional product components, stunning image effects, and engaging user interface designs with Figma. So, why wait? Start learning now!
Start Course Now