Talent Acquisition Practices
With this course you will learn the process of finding and acquiring qualified professional personnel.
Publisher:

NPTEL
This course focuses on the talent acquisition process. You will be introduced to the operational workflow for talent acquisition. This will include the operational processes that people should follow when identifying and acquiring talent. What kind of strategies might a talent acquisition manager employ? Find out this and more by taking this course!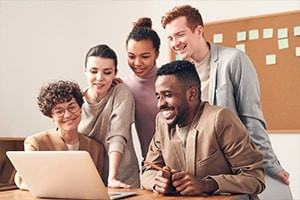 Duration

1.5-3 Hours

Accreditation

CPD
Description
Talent acquisition is the process of finding and acquiring qualified professional staff for the needs of the business and fulfilling any job requirements. The department in charge of the acquisition of talent in a company is responsible for the exploration, acquisition, as well as evaluation and hiring of all candidates who meet the expectations and requirements to fulfil the goals of the company and the projects. The acquisition of talent today is a strategic function within an organization. This includes the hiring of talented professionals and personnel planning functions such as the organizational forecasting of talent, channelling talent, as well as talent evaluation and talent strategy and development. Talent acquisition is becoming a unique profession, which is why talent acquisition professionals are often adept at not only hiring tactics, but also candidate evaluation, regulatory compliance, and recruiting, as well as branding practices and hiring initiatives within companies.
Talent acquisition is a strategic approach to identifying, attracting and integrating talent to efficiently and effectively meet dynamic business needs. Talent recruiting professionals frequently move between recruiting agencies and institutional hiring positions. In most companies, recruiting roles are no different, yet talent acquisition is becoming a unique skill set today because professionals often deal with talent issues such as employee retention and career development. According to the 2020 World Economic Report; critical skills, analytical skills and business development skills are becoming the main areas for recruitment because the business environment is going to be very uncertain for some time. Therefore, it is very important to develop the proper analytical and developmental skills. This course will allow you to identify future business needs and create talent pools for that future. You will know the continuous cycle of processes related to the attraction and hiring of employees within an organization. This includes elements of branding, outreach, networking, and relationships with potential candidate communities to continually build and improve the talent pool for an organization.
The talent management strategies of large global companies are interesting and show how by making talent acquisition a priority, you gain a significant foot in the market. You will be shown how people provide solutions for the employee experience in global companies and thus help the organization to be more agile and proactive. You will learn the strategic importance of the acquisition of talent for a company. You will study how the acquisition of talent helps to disseminate the culture of the company and thus enhance the brand as an employer, which is a priority for companies. Additionally, you will learn about the main talent acquisition strategies by companies such as FedEx and Google, who are pioneers in the acquisition and retention of talent with competitive job benefits within the job market. The retention of digital talent is an ongoing concern and is part of the talent management of any organization. It is important to have ambitious digital transformation projects, promote experimentation and have an environment in which employees can have challenging professional careers. This course is aimed at managers or human resources coordinators who want to develop in the area of ​​talent management or want to improve their acquisition and retention strategies. Do not wait any longer and start now.
Start Course Now