Spanish: Useful Everyday Phrases
Take your Spanish speaking to the next level and talk fluently like a native with this free online course.
Publisher:

Julie Guaglianono
To communicate effectively in Spanish, you need to know more than just the basics. Do you want to converse in Spanish without sounding amateurish? This course will build your communication skills and teach you how to utilise words and express yourself more fluently. Explore a range of everyday sentences to apply in various situations, which will improve your understanding and knowledge of Spanish, allowing you to go from novice to a pro.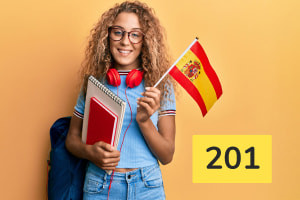 Duration

3-4 Hours

Accreditation

CPD
Description
Everyday life brings us into circumstances where we have to express our desires or needs. This course demonstrates how to communicate in Spanish in different situations in everyday life. Learn how to interact using verbs and possessive pronouns. Adjectives modify nouns and provide the listener or reader with extra information. Discover several useful adjectives in Spanish, learn how to use them correctly and compare different items using adjectives in Spanish. Just like English, the Spanish language also has definite articles. We will teach you their proper use and how to use them with various masculine and feminine nouns.
Prepositions describe the relation of one thing to another, such as 'in', 'at' and 'on'. Use the correct preposition, nouns and pronouns in Spanish to convey your exact message. Most of the sentences in Spanish use assertive or declarative sentences. An assertive sentence declares or affirms a statement, opinion, event, history, incident or anything. Explore a variety of these sentences, practise different phrases and sound like a native speaker. Food is considered multidimensional: it shapes us, influencing our cultures and identities. Discover a range of Spanish words and phrases related to food, comfortably order food at a restaurant and communicate with the restaurant staff.
We designed this course for those who already have a basic knowledge and understanding of the Spanish language. It is also helpful for learners who studied Spanish at school and want to refresh their understanding of the language. Anyone interested in the Spanish language, culture or travelling can strengthen their knowledge base in Spanish. This course will help you build vocabulary and make phrases using the proper tenses in Spanish. Do you know that learning a new language trains your brain to perform better and improves cognitive skills? Learning Spanish is essential if you want to travel. It is a global language spoken in many countries. Knowing Spanish will broaden job opportunities or international trade opportunities. Don't miss out on the chance to learn Spanish. Join the course now!
Start Course Now