Among the computer productivity applications which exist, Microsoft Excel is one of the most important tools used in many sectors. Highlighted in this free online course are the advanced methods of formatting and auditing data, along with the creation of templates that have predefined formulas. This course also examines the various Excel functions, including text, date, lookup, math, and many more.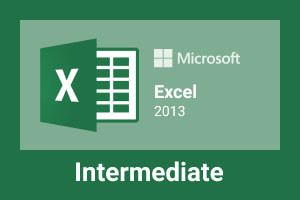 Duration

10-15 Hours

Accreditation

CPD
Description
'MS Excel 2013 Intermediate' has been specifically prepared to teach you about advanced formulas and data analysis in spreadsheets. By default, an Excel 2013 workbook is saved in the .xlsx file type, however, the course will teach you how to easily export your workbook from Excel into a variety of other file types. The function library is another important part of MS Excel. You will learn how to use the insert function dialogue box, and you will gain an understanding of logical functions, statistical functions and the syntax of average functions. Logical and lookup functions can be used extensively in MS Excel to find answers to questions. That is why the relevance of logical functions, as well as the application of VLOOKUP and HLOOKUP functions, will be highlighted.
Did you know that after creating a table, there are numerous functions to help you modify the table and organize the data in the table? This course will teach you how to do this and once you have organized the data, you will learn how to present the data as a chart. Once a chart is inserted into a spreadsheet, you can modify or format it. You will learn the difference between formatting and modifying a chart and how to create trend lines, which can be used for forecasting once you know how to use the trend line dialogue box. Gain an understanding of pivot table tools, including the Analyze and Design tabs, and how to add slicers to your pivot charts. The course will also help you understand the file protection structure in Excel.
Furthermore, this course examines how to insert and modify graphic objects, such as SmartArt, which can be layered and grouped. You will learn about layers and hidden layers as well as how to change the stacking order on the same layer. Master how to handle working with a large amount of data by creating multiple worksheets to help organize your workbook and make it easier to find content. The course will also show you how to group worksheets when you want to quickly add information to multiple worksheets at the same time and how to insert comments and hyperlinks. This course is a must for anyone who wants to advance their understanding of MS Excel 2013 by learning to work with advanced formulas and various formatting options in a worksheet.
Start Course Now