Learning how to use Excel is an asset in any career; the ability to efficiently use spreadsheets, tables, and automation to process large quantities of data is useful in several lines of work. This comprehensive course is suitable for those who would like greater insight into the more advanced features available in Microsoft Excel 2013. To complete this course, you will need to have a good knowledge of the basic features of MS Excel 2013.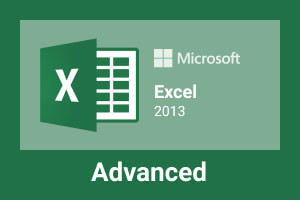 Duration

3-4 Hours

Accreditation

CPD
Description
Would you like to develop your knowledge of Excel and improve your professional skillset? MS Excel 2013 Advanced is a free online course that has been specifically prepared to teach you about advanced customization and formatting features for easy data manipulation and organization. This course teaches you how to apply conditional formatting with a particular focus on the conditional formatting rules manager. Do you know that the conditional formatting rule manager can be edited? When working on Excel, it is important how to add data validation criteria to ranges of cells in a workbook. In this course, you will learn how to trace cells with the error tracing tool.
Next, this course will teach you how to create sparklines. Completing this course will help you know how to create and save different groups of values as scenarios. We are going to create scenarios and perform a what-if analysis. You will learn how to perform a statistical analysis using the analysis toolpak. When defining a Power View, it is said to be a data visualization technology that lets you create interactive charts. You will learn how to create a power view worksheet and create interactive data. As you proceed in this study, you will be exposed to the steps of data consolidation. When you create formulas in Excel and refer to a data point in another workbook, Excel creates a link to that workbook. This course teaches you how to link cells in different workbooks. The techniques for comparing and merging workbook features will be covered.
Furthermore, you will learn how to export Excel data and save your workbook in different formats. Do you know that an Excel workbook can also be saved in PDF or XPS? This course has been designed for all those who depend heavily on MS-Excel to prepare charts, tables, and professional reports involving a large amount of complex data. If you are a learner who is required to have advanced knowledge of the MS Excel 2013 features, then don't hesitate to enroll today.
Start Course Now