Motorbike Maintenance for Beginners
Learn the essential basics and techniques of motorcycle care with this free online motorbike maintenance course.
Publisher:

One Education
Many will agree that driving a motorcycle is a thrilling experience, but experienced owners recommend getting to know your bike and how to take care of it is important. Doing little fixes and learning to recognize mechanical or electrical issues can hopefully help prevent any major breakdowns. We will consider useful and easy to follow methods to check, repair or replace engine components throughout this free course.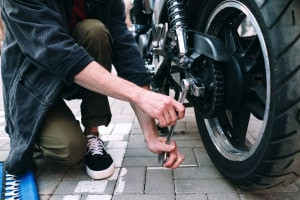 Duration

1.5-3 Hours

Accreditation

CPD
Description
Motorcycle riders often say that driving a motorcycle is like flying. It makes you feel alive, powerful and free. After buying it and walking out of the motorbike shop, your first thought was most likely to ride it as soon as possible. Maintenance was probably the last thing on your mind. However, experienced bike owners will agree that to do the exciting stuff, you first have to know how to take good care of it. By doing little fixes can help it to stay well-tuned and hopefully prevent any major breakdowns. This course will focus on teaching you the basics of motorbike maintenance. We will begin by understanding the type of commonplace tools in a workshop and which are recommended to be bought only when needed. While working with tools, it is very important to be aware of potential safety risks and how to avoid them. You will learn about the most common concerns and the most appropriate solutions.
As you become familiar with the bike's components, you will start to realize how the various parts work seamlessly together to achieve their intended design. The very essence of any machine is the engine. Therefore, it is essential to really understand the many types and systems. First, we will consider why an ignition system's regular maintenance is vital to have a smooth engine start. If you start to feel that your motorcycle's ignition timing is off, you can follow the easy methods mentioned in this course to adjust it correctly. In addition to the body and moving mechanical parts, a motorcycle also consists of electrical components. Electrical checks can tell you if a specific piece is working correctly, if a wire is broken, or if there is a faulty connection. During an electrical replacement or repair, special care must be taken to prevent any pieces from short-circuiting. Failure to pay attention to these risks can result in injuries or burns.
Towards the end of this course, we will view helpful tips to help your bike look good. Keeping it running is one thing, but if it has a stylish, well-kept exterior, your motorcycle is sure to turn a few heads on the road. While everyone has their own theory and method for cleaning a motorbike, there are usually recommended procedures to avoid. This is because they can cause damage to sensitive pieces. If your bike doesn't turn on after washing it, perhaps trying some troubleshooting tips shown here can help you identify the problem and possibly save you a bit of money along the way. Anyone with an interest to learn motorbike maintenance will gain a lot from this course. Studying this course will be beneficial to those first-time owners, potential buyers or mechanic students and anyone thinking about learning motorcycle maintenance. It provides specific techniques and methods behind maintaining a motorbike safe, well-tuned and running at optimal performance. First-time owners, those looking to buy or mechanic students more can benefit from this Motorbike Maintenance Course.
Start Course Now