Car Mechanic Training
Learn about the components, systems and general maintenance of your vehicle with this free online course.
Publisher:

One Education
In this free online vehicle mechanic training course, you will learn about the different components and parts that make up a standard vehicle. You will be introduced to the systems that make up an automobile and when you should perform maintenance on those systems. You will learn about the costs and considerations that should be thought about when buying a car. This online course will help prepare you to successfully maintain your vehicle.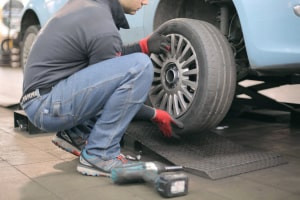 Duration

1.5-3 Hours

Accreditation

CPD
Description
This free online course introduces you to car mechanics. You will learn about important safety rules that should be followed when you are working on a car. This will lead to elements and components that are potentially harmful to the human body. The course discusses the general maintenance of your vehicle. This includes what can be found in your vehicle owner's manual, where you can find your vehicle identification number (VIN), the various liquids that can be found in your vehicle and the fuses that can be found in your vehicle. You will then study the dashboard warning lights, which can vary from car to car. You will learn what the warning looks like, what they mean for your car and what you should do when they illuminate. Knowing what these warning lights mean could help you protect yourself when driving and save you money and parts when repairing your vehicle.
You will then be introduced to the tyres of your vehicle. Do you know how to measure the tread of your tyre so that you know whether or not a tyre needs to be replaced? This will include the specification sets on a vehicle, the angle measurements used in tyre alignment and comparing older and modern tyres with the penny test. You will also be provided with the history, repeating stages and main components of the internal combustion engine. This course also discusses the main function of engine oil as well as the method of identification for this oil. You will then learn about the systems found in your vehicle. Firstly, you will learn about the actions performed by the cooling system and when you should check the system. Secondly, the main components, the difference in components from the '70s and the modern-day vehicle and the spark plug gap of the electrical system will be discussed. Lastly, you will study the main components that make up the fuel system that is built to last.
You will learn what a drivetrain is and the unique liquids that are only used for these specific parts. You will also learn about the brakes, which includes their purpose and variations. You will be introduced to the anti-lock braking system found in modern cars. The course wraps up with a deep dive into the process of buying a car. Starting off this topic are the costs that can be incurred, specifically the factors that can drive up your insurance premium. The legal requirements behind caring for a vehicle are covered. This topic finishes with a look into the considerations that will help you decide what vehicle best suits your needs. Throughout this course, you will form a solid understanding of the basics when it comes to maintaining, repairing or simply driving your vehicle. So, why wait? Start this course today and learn how to care for and maintain your vehicle.
Start Course Now