Modern Project Management - Working with Clients and Project Teams
Learn problem-solving procedures and how to work with clients productively with this modern project management course.
Publisher:

Saylor Academy
This free online modern project management course teaches you how to work with both clients and project teams as projects start becoming complex. Project managers eventually may need to shift emphasis from managing tasks to taking on leadership roles. This course will help you interpret what the client really expects, make good decisions, communicate information effectively, and how and why changes to make changes to project plans.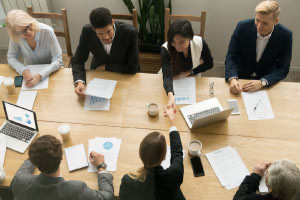 Duration

1.5-3 Hours

Accreditation

CPD
Description
First, you will identify the advantages and disadvantages of involving the client on project teams. The course will discuss the methods for determining client expectations as well as for clarifying values and determining differences. You will learn the advantages of dealing with difficult issues as soon as they arise, of using project milestones, and of nurturing a feeling of satisfaction.You will also look into the standards and procedures for dealing with problems and the importance of establishing methods for revising major decisions.
You will then study emotional intelligence, personality types and their relationship with leadership style, and the people skills that are necessary for negotiation and conflict resolution. The course will discuss the four types of trust, the three common types of meeting, and the types of teams. You also look into the HUMM method of measuring project performance and the importance of developing a project story. Finally, you will study the types of software needed for different projects, along with strategies for sharing documents that can be edited by a team.
This Modern Project Management - Working with Clients and Project Teams online course is the second in a series of courses designed to teach you the best practices of contemporary project management. Effective project managers should have the knowledge and skills to be able to negotiate reasonable and achievable deadlines and milestones and then adhere to them. This course will show you how to do just that. So why wait? Check out the course now, and start making your projects a success.
Start Course Now