Microsoft Excel 2013 for Beginners - Start Your Excel Journey
Learn the basics of Microsoft Excel 2013 and how to create spreadsheets with this free online Excel course.
Publisher:

SimonSezIT
This free online Microsoft Excel for Beginners training course is the perfect way to start your Excel journey. This course, designed for complete beginners, will teach you how to store numbers, create rules and apply filters using the Microsoft Excel spreadsheet software. Excel is a popular productivity and work management software. Start this free online course today, and let our expert author help you become a spreadsheet master.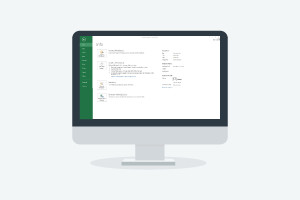 Duration

5-6 Hours

Accreditation

CPD
Description
This introductory course on using Microsoft Excel 2013, you'll learn the basics of using Excel, from opening up the software to formatting, to proofing your worksheets, and managing different Excel workbooks. The course starts off with the basics of what Excel is and what's new in Excel 2013, along with introducing the touch screen interface. Then the course then teaches you about the basics of a spreadsheet layout, using templates and the help menus, and setting Excels options.
Next, the course will teach you about the Excel interface using commands, the Ribbon and Toolbars. You will also learn about the various was of entering and deleting data from a spreadsheet. The course then introduces you to formatting your worksheet from adding themes and cell styles to text wrap and alignment all for visually improving and organizing your spreadsheets. Lastly, the course goes through proofing your worksheets and how to copy, paste, move and manage worksheets between workbooks and within a workbook.
This course is perfect for people just starting their journey in Excel and want to learn the basics about how to use and operate a spreadsheet. In this detailed course your expert instructor will take you through the essential things you need to learn when getting started in MS Excel 2013. So start this course today, and by the end of the week you'll have developed new skills for using Excel with confidence.
Start Course Now
Need Some Help?
What are the best free online Microsoft Office training courses?
How do I learn Microsoft Excel for free?
What can you do with knowledge of Microsoft Excel?