Managing The Organizational Environment
Learn how to effectively manage organizational growth and handle crises in this free online leadership course.
Publisher:

NPTEL
This free online course teaches you how your workplace environment affects business operations. Successful management is built on established leadership techniques, control strategies and models for professional culture that help you avoid failures during the growth and decline stages of organizations. This course can boost your value in the workplace and let you steer your small business to success or rise through the ranks of a large company.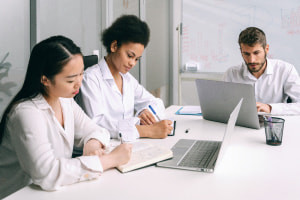 Duration

3-4 Hours

Accreditation

CPD
Description
This advanced course gives you a deep understanding of how an organization's effectiveness is defined by its professional environment and culture. Organizations thrive in friendly environments, which is why Management does its best to optimize workplace conditions for employees. To achieve this goal, there are several techniques, strategies and models for managers to consider and this course examines these solutions and explains why organizations search for ways to improve their environment while highlighting the strategies that can achieve this goal. We begin by comparing the two classifications of strategy that allow managers to control their environment and scrutinize their implementation.
We then take a close look at 'interlocking directorates' and investigate the reasons for their popularity. We explore two primary types of change (planned and structural) by studying various examples to understand their objectives. We then analyze the models for organizational change and the determinants of structural change by breaking down examples. The course then discusses Lewin's 'three-step change process' and outlines tactics for dealing with organizational resistance to change. We map out two forms of innovation while describing such change. The course then addresses organizational conflict by laying out its definitions, sources and factors that enhance the potential for hostility to escalate. We study the 'conflict-survival' model before describing the techniques used to resolve structural disruption. We compare the 'traditional' and 'interactionist' approaches to conflict resolution.
The course then introduces you to organizational culture by breaking down its definition and key characteristics. We establish how it is created, sustained and transmitted within companies before discussing its manageability and role during mergers and acquisitions. We then analyze changes in organizational culture while identifying the ideal conditions and steps to take to ensure a successful transition. We examine the evolution of organizations and the methods and motives that drive their quest for growth. We then conduct an evaluation of the 'five-phase' model of organizational growth and investigate the forces that influence organizational decline. The course contrasts such growth and decline while identifying potential problems they may raise and offering solutions. This course suits anyone looking for ways to better manage their business and team, particularly entrepreneurs and managers. Whether you own your own business or want to move upwards in a large one, we can help you to employ the best strategies to ensure the kind of stability and effectiveness that boosts business success.
Start Course Now