Managing The Organizational Environment
Equip yourself with insights on how to effectively manage organizational growth and crisis in this free online course.
Publisher:

NPTEL
This free online course on Managing The Organizational Environment will enlighten you on how the environment affects business operations. Managing organizations require a great deal of understanding to employ techniques, control strategies, and models for adopting cultures, as well as avoiding failures during the growth and decline stages of organizations. Take this course to gain this knowledge and effectively steer your business to success.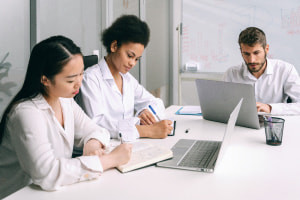 Duration

3-4 Hours

Accreditation

CPD
Description
This course on Managing The Organizational Environment is an advanced course that is created to give you a deeper understanding of how the environment influence and affects an organization's effectiveness. It is no secret that organizations thrive in environments that affect them in positive ways. This is the major reason why management does their best to ensure they operate in the most friendly environment they can find. So, to achieve this goal, there are several things managers have to think about such as the techniques, strategies, models, and other factors that can help them achieve this goal easily. This course explains the solutions to these issues and provides you with insights to better understand why organizations search for ways to influence their environment, as well as the strategies they can apply to achieve this goal. You will begin by examining the reasons why managers seek environmental control, study the two classifications of strategies they utilize in gaining such control, and also understand how these strategies work and when to apply them.
Next, Interlocking Directorates will be explained, as well as the reasons why it is popular. You will explore two main types of changes, planned change and structural change, understanding their objectives and identifying various examples under each classification. Furthermore, some other aspects such as the models for organizational change, and the determinants of structural change will be examined. Examples of these models for managing organizational change will be identified, the three-step change process will be discussed, as well as tactics for dealing with organizations' resistance to change. Also, the two forms of innovation will be analyzed, followed by a descriptive view of organizational change. You will learn about organizational conflict, examining a few ways it can be defined, several sources of conflict in organizations, and factors that enhance conflict potential. Also, you will study the conflict-survival model and learn about the levels involved in this model. Afterwards, you will analyze the techniques for stimulating conflict, as well as resolving (structural) conflict in an organization. You will analyze the terms Traditional and Interactionist, which are the two different perspectives under which conflict can be classified.
Finally, you will be introduced to organizational culture, examining its definition and key characteristics. You will understand how it is created, sustained, and transmitted within and around organizations. After that, culture will be further examined, discussing its manageability, and explaining how it affects the success of mergers and acquisitions. Also, you will analyze changes in organizational culture, identifying the conditions and steps to take to ensure a successful implementation of culture change. You will examine the evolution of organizations and the reasons why organizations seek growth as well as how they grow. After that, an evaluation of the five-phase models of organizational growth will be done as well as the forces that influence organizations' decline. You will learn about the contrast between growth and decline within organizations, study the potential problems faced during the declining stage, with some techniques available for preventing negative outcomes at this stage. Are you an entrepreneur looking for ways to better manage your business and team? Do you seek the best design and strategies to adopt in your organization to ensure stability and effectiveness? Take this free online course for insights on how to achieve these goals. Start this course now.
.
Start Course Now