Linux Disc Management
In this free online course, study Linux disc configuration and management, a vital skill for system administrators.
Publisher:

Imran Afzal
A system administrator's responsibilities include implementing, configuring, maintaining, monitoring and guaranteeing the successful operation of a computer system. This free online course is designed to teach you how to configure and manage Linux discs in a virtual environment to perform advanced storage tasks. Such skills include adding new discs, extending storage space, partitioning discs and organising these partitions into logical volumes.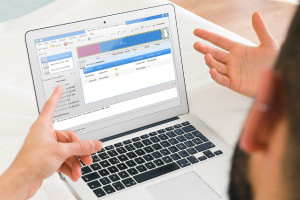 Duration

1.5-3 Hours

Accreditation

CPD
Description
We live in the era of information. Computers are not a luxury anymore; they are a necessity. From small businesses to large corporations, from home entrepreneurs to Fortune 500 companies, we all need to store vital information. E-mails, invoices, contracts and other important documents not only need a secure place to be stored but also need to be protected. This is why many people and many big companies, such as MasterCard and E-Commerce, use a CentOS Linux operating system. Learn about the tasks of Linux disk management such as adding or removing storage devices, creating and deleting partitions and mounting partitions on appropriate directories. This operating system is very stable and provides more effective security features than the most popular operating systems, such as the ubiquitous Windows OS. It also has a longer release cycle, which means that the applications running on it do not need to be updated as often, saving on costs associated with the time it takes to develop new applications. This course is intended to help anyone interested in becoming a system administrator for Linux systems to determine how to configure and manage Linux discs, which is vital for system administrators.
After a short introduction, this course will explain how to download and install the CentOS Linux operating system on your Windows computer. Unless you have the resources to purchase a computer that runs strictly on Linux or already work for a company operating on a Linux platform, most students learn and practise on a virtual Linux operating system running on their laptop. This course will therefore explain how to use Oracle VirtualBox to create a virtual machine for you to practise on. Even if you already have Linux running on your computer, study the videos and learn something new. After installing Linux on your computer, you will acquire fundamental skills in disc management. Every system administrator needs to understand the boot process of an operating system to troubleshoot effectively. Study the Linux boot process steps and become familiar with Linux' System Run Levels, a state of initialisation that defines what system services are operating, much like 'safe mode' in Windows.
At the core of the course, you will study how to create new discs, partition your discs and add or extend storage space on existing discs. Learn what command codes to use for partitioning discs with the Linux Command Interface or Terminal. Become familiar with Logical Volume Management (LVM), a unique Linux tool for working with large storage requirements. Study how to create new storage space and add new storage space to an existing volume group in LVM. Towards the end of the course, you will study the importance of swap space and add swap space to your system. Understand how to run system file checks using the file check commands and you will learn about RAID, a method of arranging discs for storage that allows you to automatically create backups of your data. Linux system administrators are in high demand. Further your career by taking this 'Linux Disc Management' course and take a step towards becoming an accomplished Linux system administrator.
Start Course Now