Guide to Being a Legal Secretary
Explore various aspects of the law and the regular duties of a legal secretary with this free online course.
Publisher:

John Academy
Do you aspire to become a legal secretary in the UK? Then you must acquire the legal knowledge and practical skills you need to work there as a legal secretary. This course provides you with everything you need to know to become a legal secretary. We begin with the UK legal systems and laws of contracts and then on to handling, composing and sending written forms of communication in a way that is safe, effective and appropriate. Enrol today!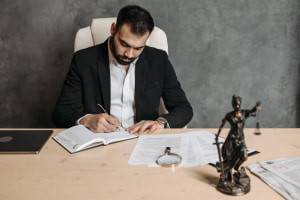 Duration

1.5-3 Hours

Accreditation

CPD
Description
Legal secretaries are essential to the proper functioning of the legal system. To operate effectively, every law office needs a competent legal secretary. They assist lawyers, solicitors, legal executives and other types of legal professionals with their organisational, research and administrative expertise at a law firm. As a result, law firms prioritise good legal secretaries in the UK. But how do you become a legal secretary in this country? This course provides a complete guide to the roles, skills and responsibilities a successful legal secretary needs, beginning with an overview. Next, we investigate the law-making procedures, including the different types of requirements of the legal system and their importance. 
A legal secretary needs to be knowledgeable about a wide range of professions in the UK legal sector so it is essential to delve into its history. You'll gain an insight into the key participants in the legal industry, their specialised responsibilities and why their contributions to the field of law are crucial. We will research the importance of contracts and the different types you may come across as a legal secretary. On top of that, we'll examine estate law, wills and their importance, including probate, trusts and their functions. Next, we explore property law, the different types of property law and why each type is essential. Finally, we analyse some common legal issues, including topics within the scope of family law, insurance and personal injury claims. 
Legal secretaries must prepare for administrative work in the legal, business and other sectors where they can apply their newly learned communication skills to support organisations operating smoothly. Learn professional writing and documentation skills, especially proofreading, editing, reviewing documents and manuscripts, managing meetings and taking minutes. In addition, we will teach you telephone handling and good customer service skills. Finally, we explore data management techniques, record-keeping skills and other essential skills required for secretarial duties. We have designed this course for anyone interested in working as a legal secretary in the UK. There are no prerequisites to enrol. So if you are thinking about becoming a legal secretary and feel that you have what it takes, stand out from others and obtain a legal secretary certification. So don't delay and register now!
Start Course Now