Gradient and Collision Animation - Adobe After Effects
Learn how to create professional animation for your projects in Adobe After Effects in this free online course.
Publisher:

Jonathan Lam
This free online course will teach you everything you need to create breathtaking, awesome animations in Adobe After Effects. You will learn the basics, step-by-step procedures for creating cool animation for your projects. We will show you how to work in a 3D space and show you the ropes to all the necessary tools in After Effects. This course is a point for the convergence of skills and creativity and provides you with a platform for enhancing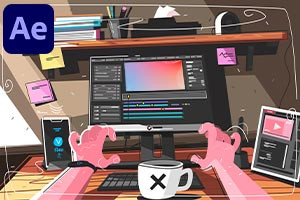 Duration

1.5-3 Hours

Accreditation

CPD
Description
In this free online course, you will learn how to integrate variance in your gradient and collision animation. Adobe After Effects provides you with the capacity to add diversity and uniqueness to your work. This course covers three major hands-on practical projects with a comprehensive video tutorial. We start by giving you a brief introduction to the animated gradient background in After Effects. First, you will learn how to load the workspace, and then we will show you how to set up and pick a colour palette from Adobe colour. You will also learn how to create a colour scheme from an image and how to apply this colour scheme to your gradient background animation. The course covers how to use shapes to create gradients and explains how to use the stopwatch to add a keyframe to produce animation for your gradient layer. You will learn how to create a comic book title animation and all the necessary skills required and bring the most out of useful tools and shortcut keys needed to arrive at the expected result. The comic book title animation is created from a gallery of pictures and runs on a 3D space. We will show you how to use the available tools to design, position, pattern, blend compositions to give a beautiful flow. We'll explain how to open photos to be used for the animation in Photoshop. You will learn how to add effects and crop the pictures to the right size for the final video. You will also learn how to animate and import the videos in sequence.
The course then proceeds to explain how to create animated collisions into titles. This project follows the basic principles for the comic book animation, so it begins with creating a new composition on which the animation is built. Here, you will learn how to create a natural rock texture for the background. Then you will use the typing tool to write whatever name you decide for your project. Familiarising with the layers and tools on the timeline will be a great leap to getting the job done. The course covers how to drag the rock textures in the project and then into the composition. Then you will also learn how to use the effect control panel to adjust the features of the text created. We'll show you how to light up the animated text with various lights with different effects. In addition to this, we will guide you through the steps to transform your animation into 3D. You will be able to manipulate the layers in a 3D space. To animate the text, you will learn how to use key tools on the timeline and the graph editor to achieve that. To add more fascinating effects to the text animation, you will learn how to add the wiggle from the effect layer.
This course is ideal for Illustrators, Designers and anyone who has a keen interest in creating animation and learning new skills. And you do not necessarily need prior knowledge or experience to take this course as the video tutorial are very comprehensive. By taking this course, you will learn how to bring your creativity to its full potential while having fun. Why wait? Start this course today and learn valuable skills that will help you to animate like a professional.
Start Course Now