Gmail - Maximize your Email Productivity
Learn various features and emailing tips that will maximize your productivity using Gmail with this free online course.
Publisher:

Laurence Svekis ✔
In this course, you will learn various Gmail features, including using Google Drive to send large files and applying labels to messages and creating filters around them. Scheduling emails to automatically send and Granting Access to your account are also covered in this course. You will be getting general productivity tips as well. These serve to boost your efficiency further and enable you to achieve more with Gmail in less time.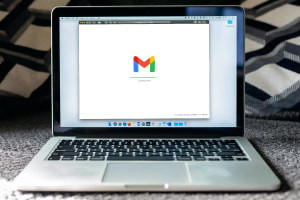 Duration

1.5-3 Hours

Accreditation

CPD
Description
Gmail is Google's email client. It provides users with the option to create accounts that are free and include 15 gigabytes of storage. Gmail also packs in features that are beneficial to everyone. This course looks at those features, giving you the specifics on each. We start by looking at some basic ones like how you can access Gmail's Settings. Then, we look at Email Signatures in Gmail. We also
look at Desktop Notifications, helping you decide whether you would better benefit from having them on or off. After that, we explain how Vacation Responder works, guiding you on its available options. From there, we move on to a helpful feature that is Schedule Send. This is an interesting one that can be quite beneficial to some users. We also look at Undo Send and the Undo Send Cancellation Period and show you how to modify it to your preference.
Then, we look at Gmail's Conversation View feature and present you with the benefits of having it set to on or off so you can decide on it, according to your needs. Moving on, we show you how you can add attachments and photos to your emails, emphasizing the added benefits of using Google Drive for this purpose. We proceed to another feature that some users make good use of, and that is Offline Mode.
After covering a multitude of features, the course moves on to adding Labels and creating Filters. These two features can, sometimes, work hand-in-hand, helping you stay better organized within your Inbox. Of course, we will give you all the information you need to use them and the benefits to you from using each. Gmail's Email Search also has extensive features, including the search parameters that help you target specific emails when conducting your searches. These and other Search options are detailed within the material. We also show you how to use Canned Responses, also known as Templates. Email Aliases are handy in specific scenarios, and Grant Access allows you to delegate your account. And, having reviewed many of Gmail's features, we then present you with our Productivity Tips. You can consider those as the links that bind it all together. And, after the Productivity Tips, we move on to our General Email Tips. These ones you can consider as the reinforcements that ensure you have received all the information you need to maximize your productivity in Gmail and work more effectively and efficiently. 
It comes as no surprise that Gmail has undoubtedly held the top spot as the number one email client worldwide for some time now. With its simple, easy-to-use interface, there is no real competition when it comes to email. And creating a Google account is a simplified and smooth process that takes no longer than a couple of minutes. You have the perfect tool that everyone can take advantage of. This course gives you an in-depth view of Gmail. We delve into all of its features and giving you valuable tips that will transform you from a regular Gmail user into a super-user. It is also a video-based course where you will be getting live demos. And did we mention that the course is free? So, do not get left out! Enrol now for this online course and get all the crucial Gmail know-how and tips that are sure to maximize your productivity.
Start Course Now