Getting Started in Qlik Sense
Pick up the skill to create interactive visualisations of data for enhanced decision making in this free online course.
Publisher:

SimonSezIT
Learn how to work on a self-service business intelligence and visual analytics platform in this free online course on Qlik Sense. You will master the essentials of navigating through Qlik Sense by learning to load data along with creating and loading apps. You will also learn about editing your visualisation in addition to publishing and sharing apps. This is a useful course for those wanting to use data and visual analytics for quick insights.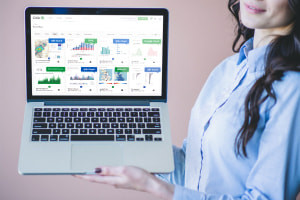 Duration

1.5-3 Hours

Accreditation

CPD
Description
Expanding global markets are generating large amounts of data which need to be analysed for better decision making and solving challenging issues. Visualisation makes it easier for us to detect patterns and trends in a mountain of data. Qlik Sense is a modern, self-service data analytics platform which enables you to create visuals that present data in an easy to understand format. This course will provide you with a detailed explanation of what Qlik Sense is used for. What coding language does Qlik Sense use? How long does it take to learn Qlik Sense? Is Qlik Sense hard to learn? You can answer these questions after completing this course and also gain confidence in navigating through the platform. You will begin by learning about the common terminologies and advantages of Qlik Sense. The course will introduce you to the different environments like Qlik Sense Desktop and Qlik Sense Enterprise. You will learn how to choose these environments.
The hands-on video tutorials will guide you through Qlik Sense Hub and Qlik Sense Windows as you explore its interface. You will grasp how to load data and a demonstration exercise will reinforce your learning. Next, you will receive the necessary guidance on creating and loading apps on Qlik Sense, which is secure, centrally managed and can scale across the cloud. Creating an app on this platform is a matter of pushing a button. But, you will learn about the optimal thumbnail aspect ratio, supported image files and other details about file extensions along with the different versions of Qlik Sense. How can you add or insert a chart in Qlik Sense? What are the guidelines and best practices for creating visualisation? How can you edit the graphs and charts? The explanatory videos in this course cover these topics and each topic has a quick review section to help you recapitulate the key points.
Finally, the course will focus on how to publish and share Qlik Sense apps in addition to the data assets in visualisation. Where are the published apps located? How are these different from the apps created in the hub? You will understand the meaning of the term stream and public sheets/stories in this context. A thorough explanation of data assets types will simplify the visualisation facts such as template scheme, dimensions, measures and master items. The businesses are becoming increasingly data driven and they want to make good use of data for profitable decision making. Thus, there is a great demand for people with proficiency in Qlik Sense. You can learn to create meaningful, interesting reports and business insights to add value to your professional skills. You can polish your general data analytics, data literacy and visualisation expertise. You can take advantage of what this free online course is offering and step into the contemporary world of data analytics.
Start Course Now