Fundamentals of Systems Design and Implementation
Learn more about the fundamentals of systems design and implementation with this business process management course.
Publisher:

Global Text Project
With Alison's free online Fundamentals of Systems Design and Implementation course, you will learn how the systems design phase bridges the gap between a problem domain and the existing system. You will study the two steps involved which include systems selection and structured systems design. You will also learn how the new system's functional and physical requirements decide what resources will be used to implement the new system..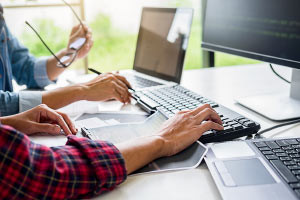 Duration

1.5-3 Hours

Accreditation

CPD
Description
Systems selection is a set of procedures performed to choose the computer software and hardware for an Information System. This course will give you an in-depth understanding of systems selection. You will look into its goals as well as learn the process of choosing computer software and hardware. This course will also discuss the request for proposal(RFP) which is a document sent to vendors that invite submission of plans for providing hardware, software, and services.

You will then look into the three objectives of the evaluation team and learn the different steps in evaluating vendor proposals. You will study structured systems design, its goals, and the steps involved in it. This course will also discuss systems implementation and the steps to be undertaken in systems implementation. You will learn how the project completion report is approved and study the three types of periodic examinations. Finally, you will study the goals of the post-implementation review and systems maintenance.

Basic knowledge and understanding of the fundamentals of systems design and implementation can help you convert a logical specification into a design which can then be implemented on your organization's computer system. Once you take this course, you will be able to grasp the concept of systems implementation and complete a design contained in the approved systems design document. You will then be able to test, install, and begin to use the new or revised Information System. So why wait? Start learning, today.
Start Course Now