English Vocabulary and Pronunciation
Enhance your English communication skills with this free online English vocabulary and pronunciation course.
Free Course
English is the third most used language on the planet, spoken by 1.5 billion people around the world. The language of business and international travel, learning English can benefit your life immensely. If you have completed the "Introduction to English Grammar - Vocabulary, Pronunciation and Listening" course, this new free English course will help you further expand your English language vocabulary and boost your pronunciation skills.
Take this certificate on your own.
Start now and learn at your own pace.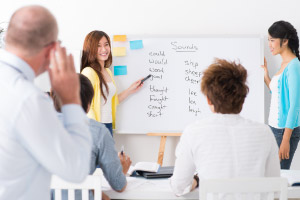 Description
Everyone finds some English words difficult to pronounce sometimes. The good news is, if you practice regularly then speaking English correctly and fluently can become effortless. This free English language course covers the vocabulary most commonly used in shopping, cooking, restaurants, and sports. It also teaches the correct pronunciation of the alphabet and silent letters, so that you can understand the more difficult aspects of English pronunciation.
Next, the course covers the 10 most-used English nouns and verbs as well as common expressions in English. This will really help you sound more like a native English speaker and will allow you to have easier conversations with people in English. The course will then take you through exercises covering basic English pronunciation, and will quiz you on important sets of English vocabulary. This will get you ready for the most common conversations people have in English.
Learning English as a second language has a lot of benefits, both personally and professionally. This free online course from Alison will be useful to all learners who already have a basic knowledge of the English language. If you want to further improve your vocabulary and pronunciation skills for travel or career advancement, this is the course for you. So check out the course today, and start boosting your language abilities even higher.
Start Course Now