Employee Engagement
This free online management course teaches you how to ensure employees work together to meet their company's objectives.
Publisher:

NPTEL
This free online course explains how effective employee engagement keeps workers motivated and hardworking. Workers become disengaged and complacent without renewed motivation and this course shows you how to get the most out of your employees through commitment drivers and management techniques that have proven effective in driving workplace productivity. This course suits small business owners and anyone looking to move into management.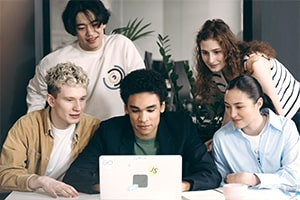 Duration

3-4 Hours

Accreditation

CPD
Description
While businesses operate in different fields and contexts, they do all share one major thing in common: employees. Your staff's working environment is defined by the way they are looked after, rewarded and disciplined, all of which establishes 'work culture'. Modern workplaces change as the world does and their cultures reflect wider shifts. Working environments are affected by health crises like pandemics, which in 2020 forced a lot of people to work from home and adapt to new protocols. Professional environments are also changed by economic crises, new technology and competition - challenges that push companies to seek the best employees who are willing to train others, work productively and recycle their knowledge to work with change and not against it. How does a company attract such employees? It starts and ends with engagement. Why should a person want to work for you? What are you offering that other companies aren't? What is your company's approach to 'work-life balance', perks and racism? Any good human resources department should be able to answer such important questions.
This course covers a myriad of topics related to employee engagement. What personnel policies do you have in place in your business? We run through the best practices to ensure that when talent comes knocking, you can answer competitively and confidently. Employee satisfaction has proven time and time again to drive business success and progress towards organizational objectives. We examine company structures and demonstrate how they can maximize available skill and talent to boost output. Ensuring that staff work together like a well-oiled machine creates a competitive edge because people perform at their best in harmonious environments.
Lastly, we hone in on the idea of 'employer brand', a long-term strategy that can set the tone for the work environment. This brand makes people aware of who the employer is, what they stand for and what they don't. It renders the employer visible to potential employees and helps make employees feel involved and committed. This course teaches you how to choose choose the right brand for you and your company. We focus on the human resources department to demonstrate the many benefits of having a communicative, helpful and well-defined organizational structure. This is often overlooked in struggling companies and yet it is certainly not neglected in businesses that succeed. This course can help small business owners to boost output or anyone interested in taking a management track or working in human resources.
Start Course Now