Employee Engagement
This free online course will teach you the processes by which workers integrate with the objectives of the company.
Publisher:

NPTEL
In this course, you will learn the main elements behind increasing employee engagement. You will study how to increase the work commitment of employees through commitment drivers and appropriate management techniques to maintain motivation and productivity in the workplace. You will learn about the importance of employee commitment for the organization and how this determines their behaviour and attitudes in the workplace.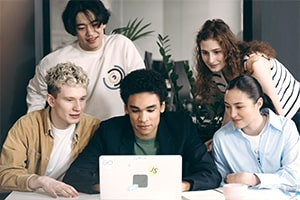 Duration

3-4 Hours

Accreditation

CPD
Description
The work environment is constantly changing as a result of economic crises, socio-cultural changes, development of new technologies, competition, globalization and health crises. In this context, organizations are constantly forced to adapt. To achieve this, they need flexible and committed employees, willing to constantly recycle what they know, learn what they don't know and adapt to change. Obtaining the commitment of employees is very important for an organization since it determines their behaviour and attitudes in the workplace. In other words, it affects customer service, productivity and quality. HR management in organizations has highlighted the importance and impact of good management and organizational commitment on the adequacy, viability and evolution of companies. Today more than ever Human Resources departments must design new policies that reduce fears and uncertainties, improve communication, stimulate performance and achieve high commitment from their employees. Knowing the perception that employees have of the people management policies applied by the organization will help to understand how they contribute to making the employee feel committed to their organization. Do you know what people policies could be applied to your business to help with employee retention?
This course on employee engagement will help you to learn about the principles of human talent management to achieve organizational objectives and achieve staff satisfaction. You will see how the organizational structure of a company can be managed to integrate coordinated human effort and to make the best use of individual skills and talents within the organization. You will learn how to develop the different skills and abilities essential for the proper management of organizational resources. You will study the importance of committed employees as generators of organizational resources and create value for the company. When we talk about the strategic management of human resources, we are talking about ways of thinking and doing that affect the values of a company. This employee engagement course will show you how to develop integrative management that allows you to generate added value and competitive advantages.
The effort to retain and attract talent has acquired paramount importance from the perspective of the employer brand. This course will introduce you to the employer brand, a long-term strategy to be recognized as a reference employer. You will know how to clearly define the role that employees play in your organization so that they feel involved and committed, as well as the image that the company wants to transmit to future employees. It implies that the Human Resources department begins to play an increasingly strategic role. You will learn how to transmit commercial actions and communications about new products or services to the entire staff so that all employees are aware of the latest news. Currently, it is essential to have employees who know the organization perfectly and who are comfortable in it to guarantee its success. This requires professionals capable of managing and applying retention techniques in the organization so that employees want to stay, but also recommend the company as a good place to work. This course is aimed at managers, coordinators and HR personnel who already know the subject or want to get started in new strategies for the retention of human talent.
Start Course Now