Diploma in Ship Stability
Learn about ship stability, principles of hydrostatic pressure and the free surface effect in this free online course.
Publisher:

ADU
Study the principal dimensions of a vessel used for performing the basic calculations as you are introduced to ship stability. You will also learn about the functions of hydrostatic tables and hydrostatic drafts. You will be able to explain the importance of the damage control plan as well as the functions and operations of hydraulically operated watertight doors. Start this course today to improve your understanding of ship stability.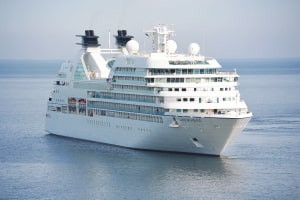 Duration

10-15 Hours

Accreditation

CPD
Description
When building a ship, what calculations need to be made and how should the structure be crafted? Throughout this course, you will answer these questions along with other matters of a vessel's stability. You will be introduced to the history of adaptive and variant designs in ships as well as the contributions of computational fluid dynamics and ship model testing. You will cover basic vessel calculations, the Wetted Surface Area (WSA), hydrostatic pressure and the four coefficients of importance needed to understand the basics of ship stability along with their formulas. What other rules can be used to calculate the area and volume of a vessel? Simpson's rules are also covered as you examine the history behind these concepts.
As you continue your studies, you will be introduced to the concepts and definition of 'buoyancy', together with the principle of floatation. You will learn about the concepts and characteristics of displacement tonnage, along with the two constituents of displacement: light and load displacement. The concepts and functions of deadweight will also be covered in this course. Fresh watermarks for the ship, hydrostatic curves, the functions of hydrostatic tables as well as the concept and functions of the hydrostatic draft are all discussed. The principles of transverse statical stability will also be taught in this course.
Furthermore, this course will help you get familiar with the illustration, construction and interpretation of the curve of statical stability. You will also be familiar with the concepts and differences between stiff and tender vessels. This course will teach you about the shift in the centre of gravity, free surface correction, Moment to Change Trim (MCTI), SOLAS general requirements and much more. The concepts of bilging, permeability and damage control planning will be discussed as well. You will also be familiar with the functions and operations of hydraulically operated watertight doors as well as the cross-flooding arrangement. For those interested in the architecture of a ship and how to keep it stable upon the open water, this course will be a great resource. Register for this course and start your next learning journey today.
Start Course Now