Diploma in International Finance
Master the policies and factors that drive international finance and affect business with this free online course.
Publisher:

NPTEL
This free online course covers the systems and theories involved in international finance. We define terms like 'gross national product' (GNP), 'gross domestic product' (GDP) and 'productivity' to help you forecast business cycles and predict future growth. Sharpen your international financial skills by studying this comprehensive course, whether you already work in global trade or want to understand how money flows around a shrinking world.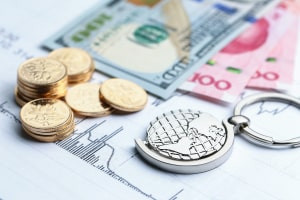 Duration

6-10 Hours

Accreditation

CPD
Description
Do you want to understand the critical aspects of international finance that seem arcane? Do exchange rates, money markets and international financial institutions confuse you? This course on international finance breaks such ideas to help you appreciate how money flows between countries. We explore the role of various countries' economic policies in defining their governments' goals and planned use of economic tools and market reforms. We examine cultural dimensions that differ between countries and influence their preferences while separating them from one another. This knowledge is critical when it comes to positioning an organization in other markets and regions. We explain the concept of 'current account deficit', a key indicator of how well a country performs economically, which refers to the difference between the value of imported and exported goods and services.
We provide an overview of the economic factors at play when businesses set up operations in new countries. The course then unpacks the concept of 'exposure management', where you monitor the risk management plan daily. Next, you will investigate the international financial market, a global marketplace where buyers and sellers trade economic assets such as bonds, stocks, currencies, economic goods and contracts over borders. Gain insight into the money market and capital markets' critical components, which can set you apart from colleagues and competitors. You will study the euro currency market in detail. It has a significant source of capital for international trade due to its efficiency to convert and the lack of national trade limitations.
We then examine 'capital mobility', which refers to the extent to which savers can move funds across borders to buy foreign financial instruments. The course takes you through 'bootstrapping', a statistical mechanism that reduces 'noise' to find the market data outliers. We explain the importance of understanding various financial instruments to grow working capital, including unsecured commercial papers, short-term debt instruments, inventories and short-term liabilities. We teach you that 'trade promotion' is an umbrella term for economic policies, development interventions and private initiatives to improve the trade performance of a region within a country. Finally, we study the Duty Drawback Schemes, the World Justice Project's 'rule of law' index, international property rights and foreign trade promotion. This course can help corporate finance students or people starting out in international business or finance. We can also guide you through the ebb and flow of international markets if you are interested in the stock market and its effect on world trade.
Start Course Now