This free online CompTIA Cloud+ Advanced course covers the more advanced aspects of cloud computing and operations. You will study the different tools and testing methods used for the service and maintenance of cloud computing environments. You will also learn how to use security and controls for protecting the different aspects of the cloud infrastructure, perform disaster recovery, and maintain availability on cloud technologies.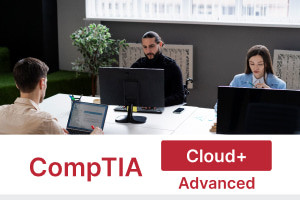 Duration

3-4 Hours

Accreditation

CPD
Description
This certification training course, CompTIA Cloud+ Advanced, will provide you with an understanding of the advanced aspects of working with and securing cloud technologies. You will learn the processes, techniques, and tools used by professionals for testing cloud technology. You will be able to explain the tools used for troubleshooting, what tool to use, and whether multiple tools are required. You will also learn about ping, traceroute, ipconfig, and nslookup.
This course then explains understanding cloud security, including additional data security mechanisms such as confidentiality using encryption and integrity using digital signatures. You will learn about understanding data security, data in transit and data at rest. You will also learn about the simplest data security forms, such as authentication with user identities, and certificates.
This course then wraps up by discussing the process for configuring high availability. You will learn about fault tolerance, which allows a system to function as normal in the event of a failure in one or more components. By taking this course you will learn how to set up, maintain, secure, and operate cloud services. So why wait? Start learning today.
Start Course Now