Beginner English 102
In this free online English course you will learn beginner grammar and vocabulary focusing on personal information.
Publisher:

Advance Learning
This basic-level, free online English guide covers pronunciation, grammar, and vocabulary to be able to talk about your personal information. Beginner English 102 will build on the skills from course 101 and there are topics on numbers, "wh-" words, information questions, and much, much more. By the end of this course you will be able to confidently talk about yourself, ask other people for information, and fill out common forms correctly.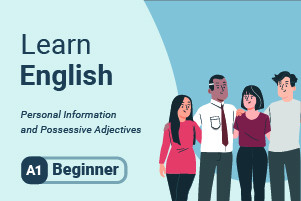 Duration

1.5-3 Hours

Accreditation

CPD
Description
This basic English course has three parts: pronunciation, grammar, and vocabulary. First, you will learn numbers from 0 to 100. The included audio files will help you pronounce numbers correctly and there is also information about how numbers are used in daily life and in various activities.
Once you know how to pronounce numbers correctly and practice with the included questions, you will learn about possessive adjectives and two question types - yes/no questions and information questions.  These are the most common questions in English. You will also learn about "wh-" words.  Finally, you will learn important vocabulary about nationalities and how to use personal information to fill out common forms, such as a job application. After completing all the topics, you will be able to answer questions about yourself and ask for information from other people.
Students with minimal English knowledge or anyone needing to learn English for personal or business purposes will gain great value from this comprehensive online English class. There are many audio examples to help you learn and questions/exercises to check your progress. If you want to take advantage of the popularity of the English language, then enroll today and use your English skills to meet new people and have meaningful conversations with them.
Start Course Now