Zbrush -Sculpturing a Female Head
Learn to sculpt an appealing Female Head with Zbrush - the ultimate digital modeling tool with this free online course.
Publisher:

Speedchar
New to 3D or have heard of but never used Zbrush personally. This free course is your best chance to understand Zbrush and go through an Industry-standard organic modeling tool. Get familiar with the interface and navigation of Zbrush and get started in the field of digital modeling. Learn all the methods, menus, functions, and techniques of Zbrush to sculpt an impressive Female Head from a sphere with this exciting free online course.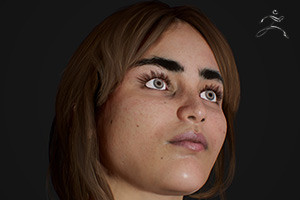 Duration

1.5-3 Hours

Accreditation

CPD
Description
Zbrush is a specialized 3d modeling software. This exceptional software is very popular and used widely by professionals and amateur hobbyists alike for organic modeling or sculpting. Understanding and mastering this remarkable software is the dream of every creative person. Even with so many options and tools available to craft and curate, Zbrush is very easy-to-use and beginner-friendly software. Get familiar with Zbrush, learn how to navigate, and use Zbrush by sculpting an impressive female head in this amazing but free online course.
Starting with the basics, this course will guide you through all the features, options, essential tools, and techniques of Zbrush. An overview of the interface will help bring clarity to you and make you comfortable using this software. Easy tutorials will help you unleash your creativity, guiding you through the process of sculpting and modeling in Zbrush. By the end of this course, you will be able to model and sculpt an impressive high poly Female head from a sphere.
So you want to learn digital sculpting in Zbrush but don't know how and where to start, this course is for you. This course is also perfect for a professional designer or digital artist who wants to improve skills with digital sculpting. This free online course is best for an absolute beginner who wants to make a career in high ploy modeling or sculpting. Enroll now and learn all the handy tricks, techniques, and tools of this. By the end of this free online course, be ready to use Zbrush like never before to create impressive 3D models.
Start Course Now