Swedish language - Introduction
Learn the basic vocabulary, grammar as well as word order of the Swedish language from this free online language course.
Publisher:

Lund University
This free online beginner course on the Swedish language will help you understand the basic syntax of the Swedish language. You will learn to write and speak simple phrases using the language nouns, verbs and connecting adjectives. By the end of this free online course you will be able to communicate in Swedish by constructing some basic sentences. This is a very helpful language course, so start learning today.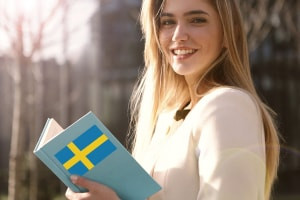 Duration

1.5-3 Hours

Accreditation

CPD
Description
This free online course starts by teaching you the basics of the Swedish language vocabulary and the word order. You will also learn about the structure of the language including the sequence of nouns and verbs in a sentence, then you will learn about the V2 rule which is a syntax of the Swedish language. Next, you will be learning Swedish voiceless consonants and their difference when in their past form.
Furthermore, you will learn Swedish nouns, how to use nouns in their singular and gender form. Next, you will learn about personal pronouns in their subject form. You will also have a closer look at the nouns and pronouns using suitable examples. Then, you will be learning about personal pronouns in their object form as well as about the indefinite forms of adjectives and how they link with nouns.
This free online course will be of great help for everyone interested in learning the Swedish language for purposes of both written and verbal communication. Whether you want to learn the language for official or professional purposes or for your personal interests, this language learning process is ideal for beginners. This Swedish language beginner course will enable you to learn the Swedish language from scratch. Why wait, start learning today!
Start Course Now